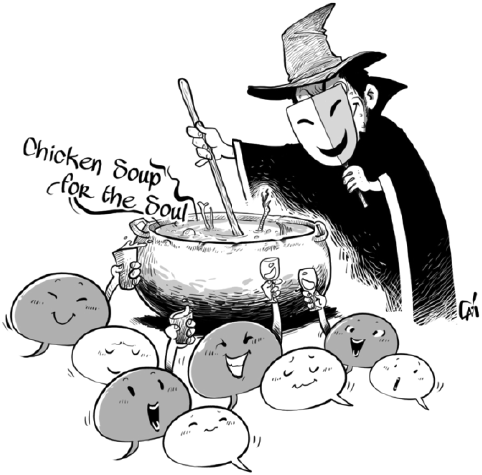 Cai Meng/China Daily
The excitement over the first Chinese winning the Nobel Prize in medicine became a viral hit online for all the wrong reasons. A fabricated speech that Tu delivered after she received the reward spread through WeChat in the past week. However, she only made one speech at Karolinska Institute in Stockholm, Sweden, on Dec 6.
The apocryphal version of her speech is poetic with literary ornamentation and mentions four main influences on Tu Youyou's life and career. These, not surprisingly, are not part of her original speech. Yet the doctored version was more welcome by many Chinese people, registering tens of thousands times hits on social media in one single day.
As Harvard Business Review said in October, there are two powerful drivers of viral success: psychological response-how the content makes you feel and social motivation-and why you want to share it. The greater the intensity of feeling the content evokes, the more likely people are to share it-the Web's answer to word of mouth, the most effective form of advertising.
The comforting, but doctored, text became popular in Chinese social media because it appealed more to people than the original, which many were not even aware of. In the digital era, readers' reading habits have change drastically. Given their fast-paced life, people nowadays tend to prefer short Chicken Soup for the Soul-type articles. Readers likely prefer short feel-good essays that cater to their psychological needs.
That's why essays forged in the name of celebrities have a huge market on the Internet. On the one hand, readers find such write-ups "interesting" and comforting. On the other, it is difficult for them to determine their authenticity. Besides, some social accounts and businesses have manipulated this loophole to gain readership by presenting fabricated articles under the name of celebrities.
Tu's speech on how she and her team successfully extracted artemisinin from wormwood might have made somebody, with or without a business motive, to doctor her speech in away that it would touch people's hearts.
So, should the fabricated quotes in or ornamented content be considered an infringement of Tu's (or other eminent personalities') rights and reputation?
In November, Wang Jianlin, chairman of Wanda Group, sued a WeChat account holder for using his name to criticize Alibaba, seeking a compensation of 10 million yuan ($1.54 million). The account holder of "Entrepreneurs' Opinion Leader" said it just tweeted the article widely circulated on the Internet without verifying the source. This is reflective of the management of public accounts on social media.
More than 10 million enterprises have reportedly registered their corporate accounts on the social media platform of WeChat, the Chinese version of WhatsApp. But many of these accounts act as imitating media outlets, with no one monitoring or verifying the authenticity of the contents.
Warnings have generally gone unheeded. Even though Tencent, the company that operates WeChat, has asked public account holders to abide by the laws of the country, the very nature of social media leaves little room for either the watchdogs or consumers to verify the authenticity of information. Instead of looking for or dissipating information when sharing news, people today are more interested in voicing opinions while communicating through social media.
The embellishment of Tu's mater of fact speech into a touching expression of thoughts raises a new question: How public accounts should be regulated in social media?
The author is a writer with China Daily. zhangyuchen@chinadaily.com.cn