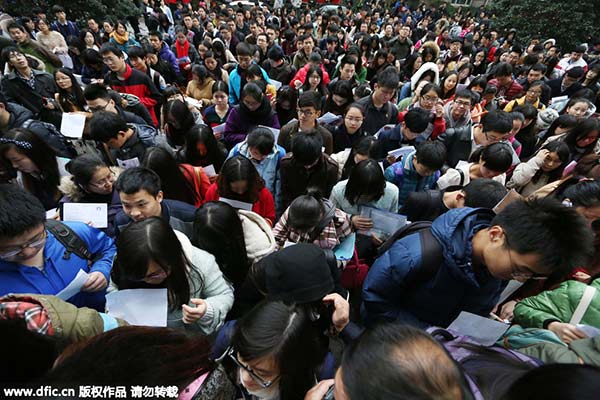 Chinese examinees walk towards an exam site to attend the 2015 China National Civil Service Examination in Nanjing, East China's Jiangsu province, Nov 30, 2014. [Photo/IC]
The 2015 china national civil service examination in Dongguan, South China's Guangdong province, is reportedly only open to applicants with a bachelor degree, because recruiting civil servants with a higher degree would be a waste of talent, said the local authorities. Comments:
Of course, the Dongguan government's recruitment of people who have only a bachelor's degree does not necessarily mean that those with a master's degree are at a disadvantage. Instead it means job-seekers are being put in the right positions. Assigning postgraduates to do some rudimentary jobs that can be done by undergraduates just as well, will not only make it hard for the better educated to prove their self-worth, but also heighten the competition over normal jobs.
rednet.cn, Oct 26
The country's National Civil Service Examination should set the bar in a fair and just manner, and try to recruit the most eligible applicants. The Dongguan government's recruitment policy fails to meet either requirement, leading to a regretful waste of qualified candidates. The government can increase the quotas in accordance with relevant regulations or wait for vacancies to arise, instead of banning a certain group of people from taking part in the exams.
The Mirror, Oct 24
The government jobs available to those with a bachelor's degree should also be open to candidates with a higher degree as well, as long as they are willing to apply. It is wrong to restrict a job to only those who have a bachelor's degree, all competent applicants should be able to take the exam and apply for a government job based on their performance, regardless of their degrees.
cnhubei.com, Oct 23
To some extent, the Dongguan government should be applauded for adopting a well-targeted and pragmatic approach to employing new public servants. It has set a good example for other local governments. It is foreseeable that more governments will tailor their recruiting to employ people on the basis of their capabilities.
southcn.com, Oct 23