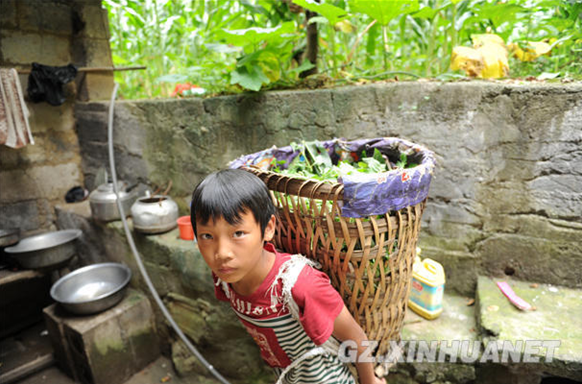 Ying Chunxi, who lives with his 80-year-old grandmother in the Wumeng area of Guizhou, has to do the cooking himself and go up the mountain to collect plants every day. [Photo provided to China daily]
Three teenagers, in Shaoyang, Central China's Hunan province, aged 13, 12, and 11, have been detained on suspicion of causing the death of a primary school teacher in her 50s and robbing her apartment on Oct 18, rousing a heated online debate over juvenile crime. Because they are underage, if they are found guilty they will be sent to a local reform school and exempt from criminal punishment. Comments:
Of course, one should neither demonize nor discriminate against the so-called left-behind children in some remote areas of China. But their situation must be looked at, because being left behind by their parents at a young age is very likely to lead them astray, as the latest tragedy in Shaoyang shows. Growing up without proper parenting makes it very difficult for children to learn the correct social values.
Beijing Youth Daily, Oct 22
The law is meant to protect the basic human rights of citizens and punish those who violate them. But the law is not the remedy for all problems; reducing the age for criminal responsibility will not put an end to juvenile delinquency. It is necessary that society reflects on why some left-behind children would resort to committing crimes.
Beijing Times, Oct 22
To solve the issue of left-behind children calls for institutional reform to promote social justice and fairness in the country. In fact, those who follow their migrant parents to a strange city are not better off, as many of them still find it difficult to adjust to urban life. These marginalized city dwellers may well fall prey to a similar tragedy, if a national care system remains lacking.
gmw.cn, Oct 21
The tragedy in Shaoyang reveals more than one drawback in social governance. For many underdeveloped areas in China, the lack of parental care and family education is a ticking time bomb for juvenile crimes. Poor education, as a result of limited financial support for rural schools and a shortage of teachers, has failed to keep juvenile crime in check. And society failed to offer a safe haven for the three young children living in broken families; the local Internet cafe was always open to them, which it should not have according to the law.
eastday.com, Oct 22