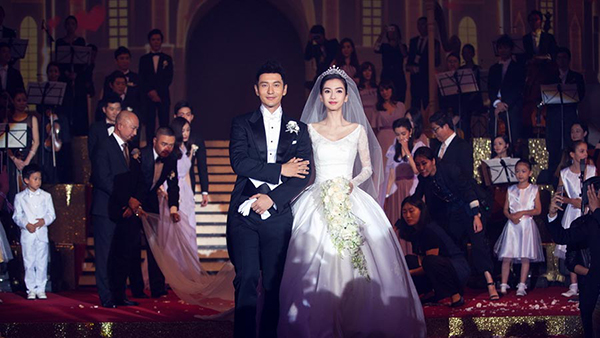 Chinese actor Huang Xiaoming (left) and his actress wife Angelababy pose during their wedding ceremony at the Shanghai Exhibition Center in Shanghai on Oct 8. [Photo/Xinhua]
Actor Huang Xiaoming and actress Angelababy (Yang Ying) became an Internet sensation this week, when they held a grand and exorbitant wedding, reportedly costing nearly 200 million yuan ($31 million), at the Shanghai Exhibition Center, with at least 100 Chinese celebrities attending. Comments:
As public figures, actors and other entertainers have notable impact on society, especially their die-hard fans who blindly follow them and see them as role models. There are no specific regulations over their social responsibilities, which is basically related to morals, but showbiz stars are closely watched and their every little move put under a microscope. That being said, they are obligated to act as role models for the public and promote the correct values, given their extensive social influence.
People's Daily, Oct 11
A country is only able to enjoy a better future when its civil society has abundant positive energy, and social organizations and influential individuals should shoulder their due responsibility in creating this. Although the extravagant weddings of celebrities are not a legal concern, they are under public scrutiny and extravagance may give rise to people obsessing about having such a luxury lifestyle. It is highly doubtful that some of Huang's fans are crazy about his wedding, which is not supposed to be a gimmick-like reality show and a display of commercial sponsors.
cnhubei.com, Oct 10
Huang and his wife are not the first couple to use their wedding for commercial promotions, and more celebrities will follow their example. Of course, we cannot judge the newlyweds feelings about one another by all the hype, which the public, including their fans, should not take too seriously.
Yanzhao Metropolis Daily, Oct 10