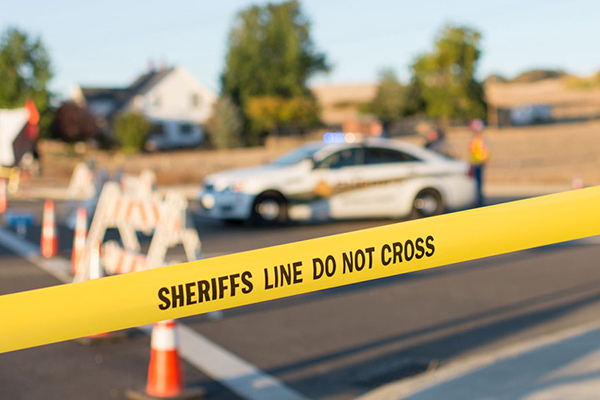 A police car blocks a road in Roseberg, Oregon, October 1, 2015, after a gunman went on a shooting rampage earlier in the day killing at least 10 people at the college before being killed in a shootout with police. Students at a US college in Oregon where 10 people were killed by a lone gunman on described scenes of panic and terror as they ran for their lives or hid in classrooms.[Photo: CFP]
The news media's responses to breaking news have changed dramatically in the digital age, but their fundamental responsibility - providing the public a truthful account of the outside world - should remain the same. Rather than from news media, more people receive breaking news first from social media, such as Twitter, Facebook, WeChat or QQ. Still, people depend on journalists for a detailed account of these events. The latest example is last Thursday's school shooting at Umpqua Community College (UCC) in Roseburg, Oregon.
As soon as the UCC shooting unfolded, waves of news reports had fed Americans on every aspect of the shooting, except the 26-year-old killer and his motivation. As I was ready to laud U.S. news media for their caution approach to the shooter, I cannot help heed Douglas County Sheriff John Hanlin's remarks at his first press conference.
Facing the U.S. press, Sheriff Hanlin, who is in charge of investigating the school shooting, declined to name the killer and urged journalists to do the same in news reporting. "We encourage you not to glorify and create sensationalism for him," he said at a press conference. "He in no way deserves this." But few journalists took note.
Instant portraits of suspects
Sheriff Hanlin's words did not seem to give American journalists pause in reporting the gunman involved. In the immediate aftermath of the UCC shooting, journalists did not report the killer's name but soon instant portraits of the killer followed like before. Covering mass shootings in the past, American journalists tended to rush out killers' profiles as soon as they could. With few exceptions, all the killers were portrayed as lone psychos, or anti-social sickos.
In 2007, for example, news media reported that the student who killed 32 people at Virginia Tech was "a loner who avoided eye contact." In 2012, a 24-year-old man who killed 12 people at a cinema in Colorado was "a shy guy… a loner." In 2012, the 20-year-old who killed 26 at the Sandy Hook Elementary School in Connecticut was "heartbreakingly shy." The 21-year-old who killed nine people at Emanuel AME Methodist Church in South Carolina was "universally described as a quiet loner." All the reports sound reasonable, right? Otherwise, how could the killers end up shooting up schools, cinemas, churches and other public places?
As a former journalist and now a professor of journalism myself, I have a deep concern on how reliable those snap portraits are, which were usually put together within 24 hours after the shooting. What's worse, they were often based on scraps of information from the killer's acquaintances. When reporting the UCC shooting, for example, the New York Times described the suspect "withdrawn and quiet," and a "man of few words" with his neighbors. The Washington Post found him "anxious and nervous," "skittish," and "a little odd," who was also "a quiet, withdrawn young man who struggled to connect with other people."