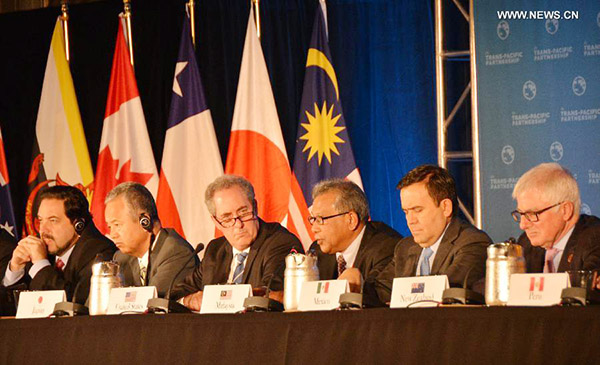 Trade ministers of the United States and 11 other Pacific Rim countries attend a press conference after negotiating the Trans-Pacific Partnership (TPP) trade agreement in Atlanta, the United States, on Oct. 5, 2015. Trade ministers of the United States and 11 other Pacific Rim countries "have successfully concluded" the Trans-Pacific Partnership (TPP) free trade talks, U.S. Trade Representative Michael Froman said Monday. [Photo/Xinhua]
US President Barack Obama has described the US-China relations as the most consequential in the 21st century, but he does not seem to care about harming it himself in order to pursue selfish political gain.
On Monday, when news came that the United States and 11 other countries had reached an agreement on the Trans-Pacific Partnership Agreement, Obama said in his statement that "when more than 95 percent of our potential customers live outside our borders, we can't let countries like China write the rules of the global economy. We should write those rules, opening new markets to American products while setting high standards for protecting workers and preserving our environment."
While one may not feel surprise to hear such rhetoric on the presidential campaign trail of people like real estate billionaire Donald Trump, it is shocking that a nation's president will speak in such an irresponsible manner. And it is not true because unlike the US, China has never said it wants to write the rules for global economy, at least not alone.
The ulterior motive behind Obama's words is clear. While Obama was ecstatic after the Monday agreement in Atlanta, Georgia, he knew too well that the approval by the US Congress is still an uphill battle, especially during the presidential election season.
What's ironic in the US partisan politics is that this is perhaps the first time when the Democratic president will stand side by side with mostly Republicans to fight his fellow Democrats, as 80 percent of Democratic Congressmen oppose the TPP. Even his former secretary of state Hillary Clinton, now a front runner in the 2016 race for the White House, publicly opposed it on Wednesday.
In fact, the opposition to TPP has been strong among both Democratic and Republican candidates in the 2016 race.
To turn the tide, Obama has chosen to resort to scare tactics by using China as the bogeyman. He did that in 2012 during his re-election campaign against Governor Mitt Romney, and he did that again several months ago while lobbying the Congress to pass the fast-track Trade Promotion Authority.
By spreading that kind of message among the US public, the US president is clearly promoting misunderstanding about China and inciting resentment among American people towards China.
This is especially dangerous when average Americans know very little about China. Former US National Security Advisor Zbigniew Brzezinski sighed last week in a seminar, saying that "the vast majority of Americans don't have a clue of what's happening in the world scene. And I mean it literally."
And literally speaking, such an audience could be easily manipulated by the inflammatory remarks of their president.
In a nationwide China Town Hall conference on Monday held by the National Committee on US-China Relations, Sheldon Day, mayor of Thomasville, Alabama, talked about how he, in trying to bring Chinese investment to his city, has to convince local public deeply affected by the negative rhetoric on China in the US political scene.
The remarks by Obama and presidential candidates such as Trump certainly contribute to such public confusion.
Based on Obama's remarks, he needs to explain why the US is not using the TPP in a geopolitical game, and how his rhetoric on writing trade rules does not signal the US means to exclude China, now the world's largest trading nation and home to one-fifth of humanity.