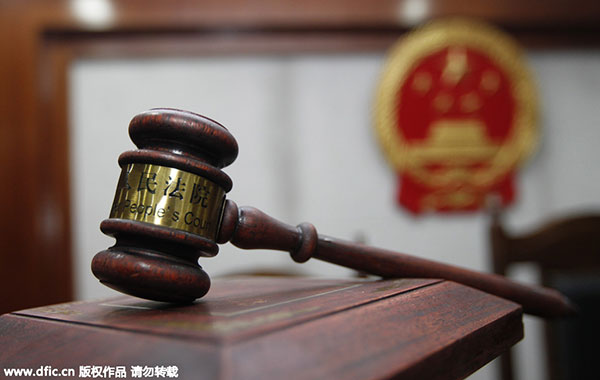 A gavel in a court. [Photo/IC]
On Sept 20, the Supreme People's Court and several other top judicial authorities jointly issued a regulation aimed at protecting lawyers' working rights like access to court materials and meeting their clients. The detailed regulation comes in the wake of reports saying many lawyers have been denied access to necessary court materials or prevented from meeting their clients. Comments:
Still believing in the principle that emphasizes State power over personal rights, certain local courts and prosecutors' offices view lawyers as adversaries. They often use their power to prevent lawyers from exercising their rights. The new regulation was more than necessary because only when lawyers are able to freely defend their clients in court can the rule of law be truly promoted.
Beijing News, Sept 21
Lawyers face trouble not only in courts. Some reports even demonize them because sometimes they defend seemingly dubious people, or those who appear to have committed crimes. Such incidents show some people are yet to understand the spirit of the rule of law. It is time legal education was seriously promoted in society to make people understand that justice also includes protection of suspects' legal rights in court.
Beijing Youth Daily, Sept 21
The regulation to protect lawyers' working rights is a positive move. But lawyers need to strictly abide by the law in their day-to-day work. China has special laws on how lawyers should meet their clients who are charged with compromising State security, planning terrorist attacks or taking huge amounts as bribe. In such cases, lawyers have to follow the special laws instead of insisting on their illegal requests.
Wu Qingbao, vice president of Beijing Law Society, Sept 21
Actually, the rights of lawyers specifically mentioned in the new regulation have long been written into other laws, yet in practice local judicial authorities often violate them. The problem lies in the unfavorable ecology of the judicial circle, in which judges and prosecutors often form alliances and do not trust lawyers. The process to change the situation will be long, and the new regulation is a good start.
Beijing Times, Sept 21