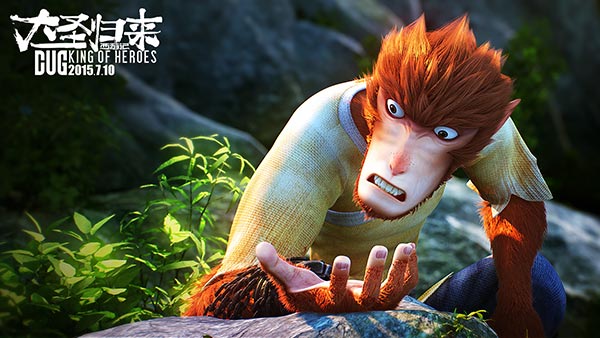 [Photo provided to chinadaily.com.cn]
China's box office brought in more than 5 billion yuan ($806 million) between July 1 and 28, an all-time monthly high. At least 144 million tickets were sold in 5,400 cinemas nationwide, and more than 95 percent of the movies were domestically made, with Monster Hunt, Jian Bing Man and Monkey King: Hero Is Back, leading the charge. Comments:
Admittedly, China's film industry has a lot to do to catch up with Hollywood with regards to quality, content and originality, but the recent success at the box office signals a promising start for all film producers in the country. Homegrown movies can be enlightening, well-produced, and loved by the audience as long as Chinese filmmakers keep trying to absorb the essence of their traditional culture and expand the scale of the industry.
xinhuanet.com, August 1
On the one hand, the record box office could be a boost for the country's film industry if it serves as a financial guarantee for filmmakers to improve their artistic level. On the other hand, it may deal a blow to the whole industry if some poor quality movies achieve success they do not deserve, which has happened more than once in recent years. As the world's second-largest movie market, China still has a long way to go to improve the quality of its films.
Guangzhou Daily, July 23
Objectively speaking, quite a few high-quality Chinese films have emerged in recent years, thanks to the influx of "hot money" in the domestic movie market and the thriving box office. But in general, the industry's "golden age" is yet to come, as many inferior movies with bad reviews have been screened as well.
Xinhua Daily, July 28
As a form of art, films should be able to encourage audiences to think with curiosity and cast doubt over the world and face reality with greater confidence, not just offering them escapist entertainment. The record box office this summer may not necessarily mean that all the films have been of high quality.
Jiefang Daily, July 28