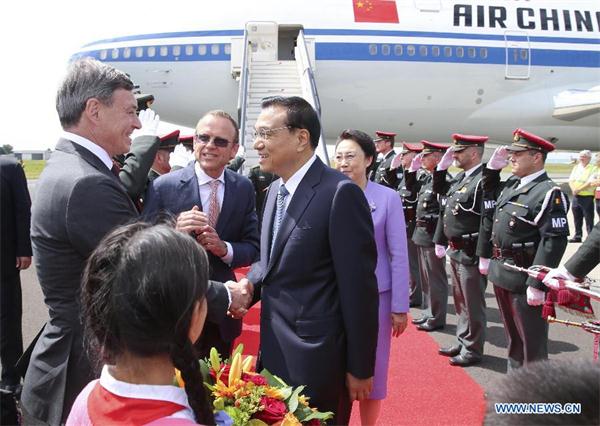 Chinese Premier Li Keqiang arrives in Brussels for the 17th China-EU leaders' meeting, Belgium, June 28, 2015. [Xinhua/Pang Xinglei]
Chinese Premier Li Keqiang will attend the 17th EU-China Summit in Brussels, marking the 40th anniversary of diplomatic relations between the European Union and China.
The four-decade-old EU-China relationship is now set for a further leap forward with Brussels and Beijing agreeing to a broad-ranging agenda for cooperation. The challenge now is to implement the policies and finalize negotiations on key subjects such as a bilateral investment treaty.
Trade between the EU and China has continued to flourish, but experts believe that a bilateral investment agreement could give a 1 percent boost to economic growth. The EU share of foreign investment in China is 28 percent but China accounts for less than 5 percent of overseas investment in Europe. And while European businesses complain about the lack of an effective legal framework guaranteeing protection of investments, weak enforcement of intellectual rights and forced technology transfer, Chinese enterprises complain about the complexity of EU rules and regulations.
Hence, Li is likely to explore potential synergies between China's "Belt and Road Initiative" and the European Fund for Strategic Investment, also known as the "Juncker plan" (named after European Commission President Jean-Claude Juncker). In fact, officials say the two sides are ready to discuss potential cooperation in transport, communications and energy infrastructure.
On connectivity, the two sides are likely to look for synergies between the digital transformation of the EU economy (5G) and China's efforts to link information and communications technology and manufacturing (Industry 4.0).
The summit is also expected to touch on the China-proposed Asian Infrastructure Investment Bank. And since more than half of the EU member states have joined it as founding members, EU leaders will emphasize the importance of transparency and international governance standards for the bank.
As to climate change, last year China pledged that its carbon emissions would peak around 2030 and its use of non-fossil energies, including nuclear energy, would be raised to 20 percent by 2030. Although the EU welcomed China's climate commitments, it suggested that targeting 2030 as the peak year of carbon emissions would not be conducive to limiting global warming to 2 C.
The EU, on its part, has agreed on a binding greenhouse gas reduction target of 40 percent and a renewable energy share of at least 27 percent of total EU energy consumption by 2030. The summit, therefore, is expected to provide an opportunity for both sides to agree on a common approach for the UN Climate Change Conference in Paris in December.
The author is director of the EU-Asia Centre in Brussels.