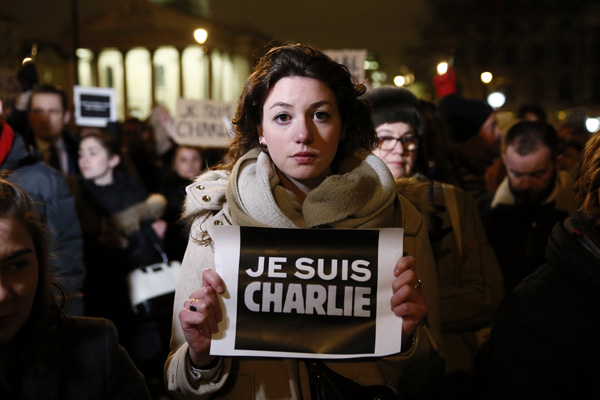 A woman holds a placard that reads, "I am Charlie", during a vigil to pay tribute to the victims of a shooting by gunmen at the offices of weekly satirical magazine Charlie Hebdo in Paris, at Trafalgar Square in London on January 7, 2015. [Photo/Agencies]
Three hooded gunmen shot dead 12 people in the offices of Charlie Hebdo, a Paris-based satirical magazine, on Wednesday in the deadliest attack in France in more than half a century, which French President Francois Hollande has called "an act of exceptional barbarism". Hollande also declared a national day of mourning on Thursday, not least because the audacious attack claimed the lives of the Charlie Hebdo (Charlie Weekly) editor and three of France's finest cartoonists.
Fears had been rising in France and other European countries that jihadists returning from Iraq and Syria would orchestrate more attacks in their countries of origin. A direct contributing factor to the tragic attack in Paris is believed to be the repeated publication of cartoons making fun of Islam by European magazines. Jihadists had warned Charlie Hebdo through the Internet many times to stop publishing cartoons ridiculing Prophet Muhammad. But Charlie Hebdo continued to ignore the warnings and threats. Last year, its Twitter account satirized Abu Bakr al-Baghdadi, leader of the Islamic State, promoting sporadic attacks in France.
The global propaganda campaign launched by the IS, which controls large swathes of Iraq and Syria, too acted as instigation of the attack in Paris. Unlike al-Qaida and other "traditional terrorist groups", the IS is irksomely skilled at attracting youngsters from across the globe to join the jihad (holy war), because its members are adept at using social network tools such as Facebook and Twitter.
A number of youths even from the West, including Europe and the United States, were drawn to the IS last year. Some 2,000 "radical militants" born in Europe are said to have joined the IS and participated in its self-proclaimed "holy war".
Worse, some of them returned to their countries of origin after being trained by the IS in the "art of waging war". Cherif Kouachi, one of the three French gunmen who attacked the Charlie Hebdo offices, was charged with having criminal associations with a "terrorist enterprise" in 2005 by French law enforcers before leaving for Iraq to join Islamists.
Culturally speaking, the Paris attack reveals the mounting conflict between Islamic culture and Western values, such as liberty and individualism. Freedom of expression (and thus publication), for instance, allows the French media to satirize political affairs and lampoon politicians. But for most devout Muslims, the lampooning of Prophet Muhammad is intolerable and downright offensive.
Of course, the gunning down of 12 people in the offices of Charlie Hebdo can be only described as a terrorist attack and deserves strong condemnation by the civilized world. But the tragedy should also prompt media outlets to determine the boundary that separates freedom of expression (and thus right to lampoon someone) and respect for religions.
The author is a professor in the International Politics Department at the University of International Relations in Beijing.