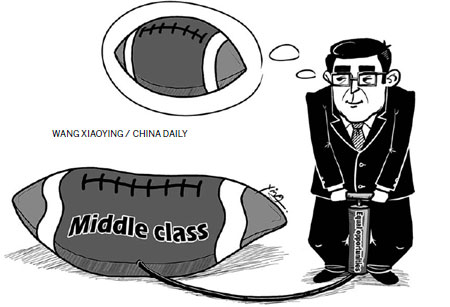 With the 18th National Congress of the Communist Party of China in full swing, which will see once-in-a-decade leadership transition, it is perhaps time to revisit the goal set by most of China's leaders, that of a xiaokang society.
Various definitions have been provided for xiaokang. And almost all of them define it as a "moderately well-off" society and "economic opportunity for all" with focus not just on material gains, but also on "social harmony".
From Deng Xiaoping to Jiang Zemin to Hu Jintao, xiaokang has often been presented as an overriding objective of Chinese society. But little attempt has been made to provide a tangible criterion and assessment of any progress made.
Many point to the growing gap between the rich and the poor, given the poverty that marks the life of many people in rural China, to talk about the need to establish a xiaokang society. But a xiaokang society is not about being anti-wealth. It is about being anti-poverty and, fundamentally, equality of opportunity across social groups.
Western economic history tells us that imposing higher taxes on the wealthy in an attempt to facilitate a more equitable distribution of wealth does not work and usually results in an even greater divide between the rich and the poor. If the government imposes an even higher tax rate on the rich, it may encourage them to take recourse to newer methods to evade tax and could lead to the outflow of money to "tax-friendly countries", just like what has been happening in France after French President Francois Hollande announced plans to impose higher taxes to recoup the country's budget deficits.