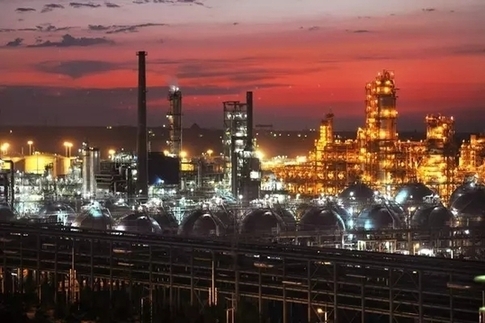 The beautiful nighttime view of the "oil city"—Karamay. [Photo provided to chinadaily.com.cn]
The city of Karamay in Northwest China's Xinjiang Uygur autonomous region started to host the 2016 Silk Road Economic Belt- Xinjiang Karamay Forum on Aug 9. It aims to build a prosperous future through deepening cooperation with countries along the Belt and Road Initiative region on energy, infrastructure construction, finance, information, education and international communication.
The forum can provide a platform for Karamay to expand its reaches to important energy cities along the China-Kazakhstan crude oil pipeline, China-Central Asia gas pipeline and Central Asia-Caspian Sea pipeline. Karamay is now pushing ahead to construct the Karamay-Tacheng railway line linking it with Kazakhstan, and more high-speed roads and railways are under development to improve connections between Karamay and Central Asian countries.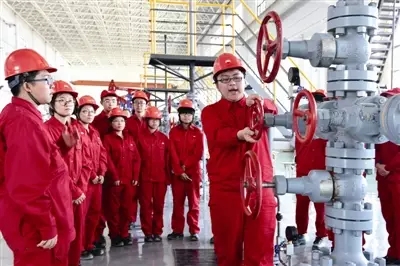 Karamay provides professional training in the petrochemical factory. [Photo provided to chinadaily.com.cn] 
Cross-border e-commerce businesses in the region will get more opportunities to expand across Central Asia, Western Asia and Russia, through the Internet Financial Center of the Silk Road Economic Belt and the Asia-Europe Cross-border E-commerce Platform. A regional data center mainly supported by the National Data Center for the Belt and Road Initiative and Xinjiang Mobile Internet Data Center will be built to cover most regions in Central Asia.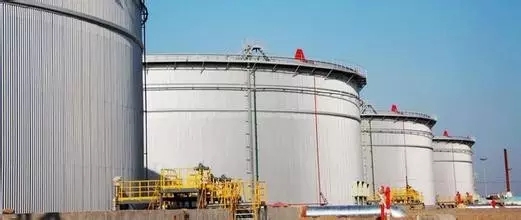 Petrochemical factories in Karamay city. [Photo provided to chinadaily.com.cn]
Karamay cooperated with the China University of Petroleum, aiming to be the best city in China to provide professional training in the field of petroleum and petrochemicals in the Central Asia region. Karamay is also trying to enhance cooperation with its partners in the World Energy Cities Partnership (WECP), including Canada, Russia and the United States.
The Silk Road Economic Belt- Xinjiang Karamay Forum, honored as the "Davos Forum in West China", commenced in Karamay, Xinjiang Uygur autonomous region, from Aug 9-11. It is expected to attract around 500 leading figures from the governments of China, Pakistan and Kazakhstan, as well as representatives from businesses and think-tanks.