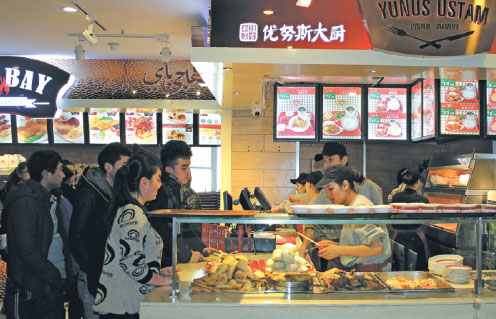 Diners stand in line to order food at Yunus Ustam, a halal eatery run by Arman Muslim Foods Industrial Group in Urumqi, Xinjiang. Provided to China Daily
In the Xinjiang Uygur autonomous region, Arman is synonymous with halal food.
As the leading manufacturer of halal food, a dietary requirement for Muslims, the company has several food-processing plants and nearly 4,000 small markets scattered across the region – even in the remotest villages in the middle of the Taklimakan Desert.
A food-processing center in the region's capital, known as the central kitchen, delivers around 300,000 half-processed meals to the group's retail outlets every day. The number is expected to rise to 500,000 meals by the end of the year, according to Radil Abla, founder and director of Arman Muslim Foods Industrial Group.
This means that by 2017, one in seven of Urumqi's more than 3.4 million residents will be eating Arman's fast-food at least once a day, on average. And by 2020, Abla hopes to have expanded the group's operations nationwide.
"I hope by that time, when people mention halal food, they immediately think of Arman," the 48-year-old entrepreneur said.
The company was founded in 1995 when Abla, a university graduate who majored in biology, quit his job as a research assistant at a public institution.
He ventured into the private sector searching for a better life. He named his business Arman, which means "hope" in Uygur. In the first two years, before finding the focus of his business, he tried his hand at wedding photography and the sale of imported electronics.
Then, he hit on the idea of opening a small supermarket – the first was no bigger than 10 square meters.
"I discovered that supermarkets rarely carried halal food, and realized the market potential," said Abla. "It was then I decided to focus my business on halal foods. From there, I began to open factories. And before I knew it, my business was expanding and prospering like never before."
Looking back, the businessman said standardization was the key to his company's success.
"We have always been dedicated to the standardization of halal food. We use industrial processes and standards to make our food halal," said Abla, in a recent interview with China Radio International.
When Arman first expanded into fast-food in 2010, it faced a cha-llenge: how best to deliver traditional staples such as noodles, pilaf and naan bread to customers within a few minutes of their order, while still ensuring freshness and flavor?
Trials started in the company's employee canteen, Abla said.
Ayinur, an ethnic Uygur, has been the canteen's chief cook since 2000, shortly after being laid off from a spinning factory. She recalled numerous trials and tribulations that the kitchen faced before a standardized cookbook was finally put in place.
Now, as deputy manager of Arman's first central kitchen in Urumqi, Ayinur uses this book as a manual to train new employees and guide the kitchen's operations, delivering processed foods to the group's retail outlets.
"This allows our stores to quickly provide customers with wonderful food, which is also safe and affordable," Abla said, adding that he believes the halal food sector still has huge market potential, given that Muslims make up more than half the population of Xinjiang.
Arman now runs 72 fast-food outlets across the region, which Abla hopes to increase to 100 by next year.
Within five years, the entrepreneur envisages 20 central kitchens and 10,000 franchise outlets across the country.
For Abla, Arman is more than a business, it still represents hope – just as it did when he first founded the company all those years ago.
"I placed my hope in Arman to bring a better life for my family when I first set out in the private sector," he said. "And I still place my hope in Arman to bring a better life for more people – especially ethnic people from poverty-stricken areas."
According to Abla's calculations, one typical Arman fast-food outlet in Urumqi contributes about 36 million yuan ($5.5 million) to the region's GDP. Each outlet employs 120 people, so if Arman opens 1,000 such outlets nationwide, it will mean 120,000 jobs and close to 40 billion yuan to GDP.
"For me, that means a better life for many, many people; that's my hope for Arman," he said.