China National Offshore Oil Corporation sent a model No 981 deepwater semi-submersible drill to Karamay oilfield, at the 2015 China (Karamay) International Petroleum and Petrochemical Exhibition on Sept 1, Karamay Daily reported on Sept 2.
At the CNOOC exhibition area , Ni Haiguang, deputy general-manager of the oilfield company, discussed the drill in-depth with Yang Fan, CNOOC's vice general manager of scientific development .
The No 981 drill was invested by CNOOOC and started construction in 2008. It is the first sixth generation semi-submersible drill that is wholly designed by China through independent research and development. Meanwhile, it is also the first drill designed specifically for the rough South China Sea. It can withstand typhoons and signifies China's greater competitiveness in equipment manufacturing.
According to Yang Fan, the petroleum and petrochemical equipment exhibition not only increases the friendship between CNPC and CNOOC, but also provides a platform for petroleum companies to showcase their products, seek cooperation and learn about the industry.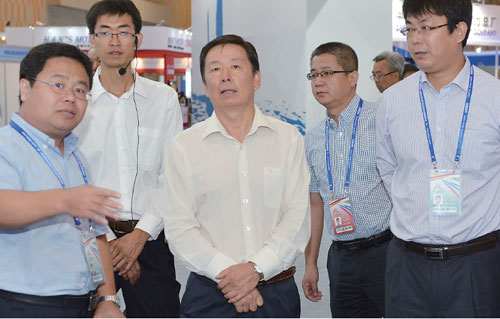 Nie Haiguang talks with delegates at the 2015 China (Karamay) International Petroleum and Petrochemical Exhibition on Sept 1. [Photo/ epaper.kelamayi.com.cn]
Edited by Andrew Ancheta