Wuxi plans state-of-the-art public health data platform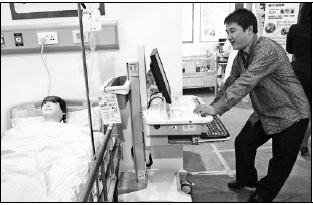 A smart healthcare management platform is demonstrated at an IoT exhibition in Wuxi, East China's Jiangsu province.[Photo/Xinhua]
To further integrate the internet of things technology and the healthcare industry, Wuxi, East China's Jiangsu province, plans to shape a healthcare information system. It will include a smart healthcare management platform and four centers for private and public health data and demographic analysis.
The city has attracted global giants and encouraged local firms to cooperate with the local government and tap into this market with huge potential.
Wuxi has built a smart healthcare management platform, featuring cloud computing, big data and IoT, enabling hospitals and clinics to provide services based on smart monitoring of blood pressure and glucose levels for residents with chronic illnesses.
AstraZeneca Plc applies IoT to diagnosis and treatment around China and set up an innovation center in Wuxi, eyeing the city's advantages on IoT development.
"AstraZeneca has established some 1,300 comprehensive diagnostic and treatment centers for respiratory disease and more than 12,000 respiratory clinics in over 260 cities in China," said Leon Wang, executive vice-president of AstraZeneca International.
At AstraZeneca's respiratory clinics, patients receive notices about current air conditions from IoT-integrated medical inhalers. Doctors receive patient updates the same way.
The AstraZeneca Commercial Innovation Center, located in Xinwu district, is promoting similar IoT-based healthcare that manages the patient journey from prevention to diagnosis, treatment and after-treatment support.
"Technology will help provide intelligent and convenient service for all," said Liu Jun, CEO of BayNexus, a Wuxi-based company specializing in smart healthcare.