Golden path to success: Inner Mongolia 70th anniversary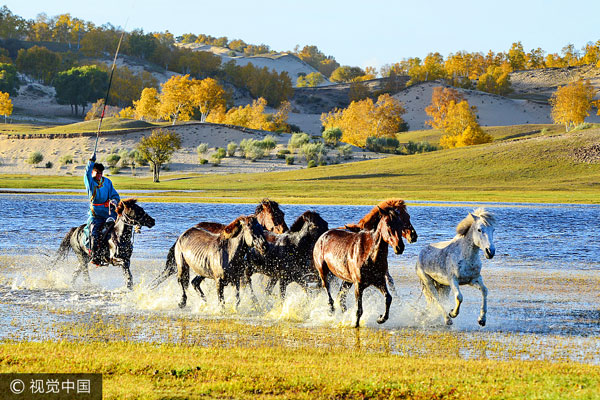 Due to the exclusive landscape, and geographic environment, horses have been playing an irreplaceable role in Mongols' daily lives. [Photo/VCG]
Inner Mongolia, the first autonomous region established in China in 1947, is stepping into its 70th birthday this year.
These 70 years might seem harmonious; however, myriad innovations have been made.
Now, let us rewind the time and magnify the great leap manufactured in this unique region.
Inner Mongolia autonomous region is an inland plateau located in the northern part of China.
Due to the exclusive landscape, and geographic environment, horses have been playing an irreplaceable role in Mongols' daily lives.
As the sayings: "A Mongol without a horse is like a bird without the wings." Horses serve as the riding tools for nomads, as well as racing horses on this piece of grassland paradise.
However, after the establishment in 1947, the nomadic way of living in the Inner Mongolia autonomous region crumbles gradually.
With the abundant supply of natural resources and enormous back up from the country, Inner Mongolia autonomous region has started to reform from a retrogress rural region into a developed autonomous region.
First of all, herders can now be able to raise animals in a more sustainable way, so as to protect grasslands. As a result, many herders settled down and live a stable life.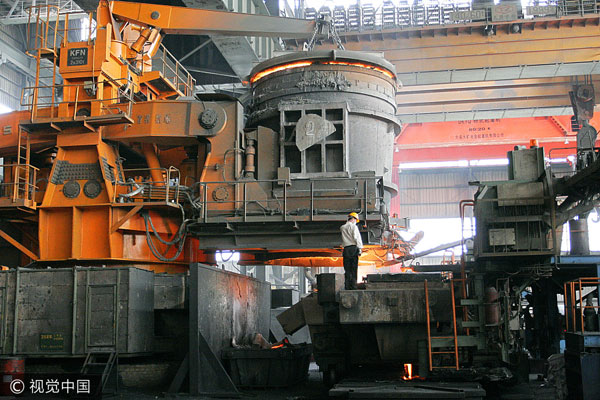 Inner Mongolia autonomous region is then developed into an extensive production base of coal with the second highest coal reserve of China. [Photo/VCG]
Inner Mongolia autonomous region has a rich supply of resources like urban minerals, cashmere and natural gas.
With the rapid economic growth of China, the exploitation and utilization of natural resources are enhanced.
Correspondingly, Inner Mongolia autonomous region is then developed into an extensive production base of coal with the second highest coal reserve of China.
Thus, the economic gross of the region boosted up from 537 million yuan ($79.40 million) to 1.86 trillion yuan over the past few decades, and the GDP per capita has even reached $10,000. This economic expansion well leaded the region to the peak of the country.
Aside from the economic development made, the region also implies effort on cultural aspects. As a major cradle of the Chinese civilization, Inner Mongolia autonomous region consists of a variety of different ethic groups.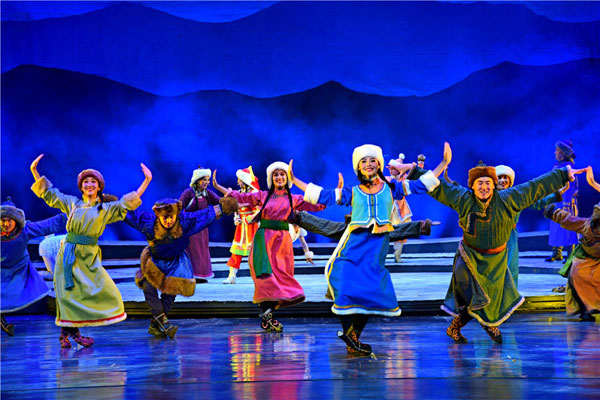 A scene from the musical Little Heroic Sisters of Grassland. The villagers dance to the music. [Photo by Zhang Xingjian/chinadaily.com.cn]
There was often discrimination among them in the past.
Therefore, China established policies, systems and laws featuring on the equality, regional ethic autonomy, unity and prosperity, in the aim in protecting all ethic groups.
Standing at the peak of China's development, the 70 years of Inner Mongolia's reformation can definitely prove the effectiveness under the leadership of the Communist Party of China.
With the continuous respect to the culture and adherence to the law, bright and prosperous future of Inner Mongolia can already be foreseen.
Lily Lei contributed to this story.