Chinese saddle-maker aims to take his brand abroad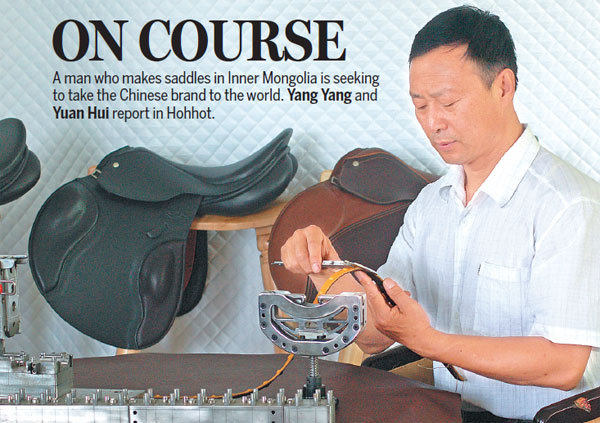 Sun Bangli has developed his interest in equestrian sports into a saddle-making business. The 62-year-old is a top saddle-maker in China. Provided To China Daily
A man who makes saddles in Inner Mongolia is seeking to take the Chinese brand to the world. Yang Yang and Yuan Hui report in Hohhot.
Sun Bangli's fame has been growing over the past two decades. Some items made in his factory were included in gifts to Turkmen President Gurbanguly Berdymukhamedov during President Xi Jinping's visit to that country in 2014.
The 62-year-old artisan is a top saddle-maker in China and runs a factory in Hohhot, the capital of the Inner Mongolia autonomous region.
His connection with the saddle started three decades ago when he worked for Hohhot's China Military Sports Institute, where equestrian teams were trained for military purposes before 1980.
In April 1983, representatives from the Lausanne-based International Equestrian Federation visited the institute and admitted China as a member. They also brought a high-end saddle set as a gift.
It was the first time that Sun, then a member of the equestrian team at the institute, saw such a fine foreign product.
"I wished I could make such saddles one day," he recalls.
Sun and his parents moved to Hohhot from neighboring Liaoning province when he was 12 years old. In 1973, after finishing middle school, he joined the China Military Sports Institute.
There, he woke at 5:30 am and ran some 10 kilometers daily before joining the institute's equestrian team for regular morning exercises. He managed to tame wild horses that other people had failed to ride, he says.
He also proved apt at adjusting saddles to make both horses and riders comfortable.
In the 1970s, saddles used at the institute were produced according to old military standards, he says.
"They were uncomfortable for both humans and horses. Both would be injured after training."
Later, he left the team and went to coach an acrobatics troupe in the Ningxia Hui autonomous region.