Bristol celebrates its Chinese graduates and connections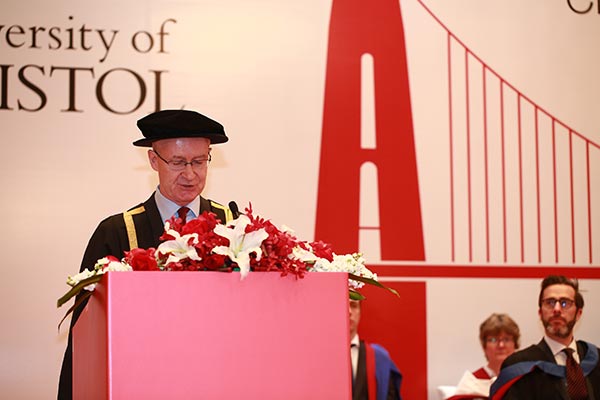 Hugh Brady, president of the University of Bristol, delivers a speech at the graduation ceremony in Beijing held for its Chinese graduates this year. The students take photos after the graduation ceremony. [Photo provided to China Daily]
Kang Jingwen and her schoolmates were all dressed in academic robes.
She was excited that her parents were there to celebrate her graduation, and they took many photos.
The 24-year-old is one of the 376 new Chinese graduates of the University of Bristol who recently gathered in Beijing for an official graduation celebration for the Chinese who studied there, together with their families and friends.
"I've broadened my horizons and honed my ability to think independently in my four-year undergraduate study. I've learned a lot outside the class that's helpful in my job. Also, the city of Bristol is beautiful, with historical buildings," says Kang, who works for a company in Shanghai.
The Beijing event is very convenient for Chinese graduates whose families are unable to attend the graduation ceremony in the United Kingdom due to travel costs, visas and time constraints, as it makes it possible for the students and their families to celebrate the event together in China.
"Graduation is a rite of passage between one stage of life and the next. The support of family and friends is crucial for our graduates. We are glad to see not just parents, but also grandparents present here. That inspires us to continue to bring the event to Beijing," says Hugh Brady, the president of the University of Bristol.
The recent event was the third graduation ceremony that the university-ranked 41st in the QS World University-Rankings 2016-has held in Beijing since 2015.
Speaking about the university's connections in China, Brady says: "We already have strong links with universities and institutions, and a considerable network of influential alumni across China.
"So, this visit is about celebrating our new graduates, fostering existing relationships and exploring potential new partnerships."
On his university's strategy in China, he says it is a mix of individual research relations that the professors have and a small number of strategic partnerships.
So, the professors hope to have more students in exchange programs that bring them to China.