As pets become like family, relocation services boom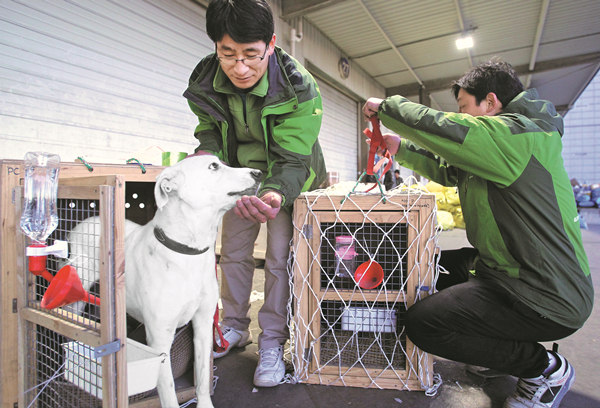 Spike, a 4-year-old canine, is fed at Beijing Capital International Airport on Dec 29 before being flown to the United States. Zhang Wei / China Daily
Helen Boneham adopted Benji, a Labrador puppy, after she started working in Beijing in 2014. Soon after, she began looking into how to take him home to Britain, since she didn't want to leave him behind.
Because China is attracting more foreign workers who either bring pets with them or adopt locally, companies offering international pet relocation services are booming.
Pets need more documents for international travel than humans, including vaccination and health certificates. Plus, even when they travel in the cargo hold, the cost of air travel can be as high or higher than a person's fare.
"It's important pet owners are aware that the process can take up to six months to prepare your pets for departure — sometimes even longer, depending on the country you are going to," Boneham said.
She was speaking after attending a free seminar for people looking to leave China with pets that was held by the International Center for Veterinary Services.
One important lesson Boneham learned was that some airlines, including British Airways, have an embargo on pets in July and August due to elevated temperatures. Because she was flying out in August, she had to choose a different carrier.
"Some people who do no research have made that naive assumption that they could just show up with their pet and their passport at the airport," said Mary Peng, CEO and founder of ICVS. "It happens all the time."
In fact, countries have different regulations on vaccination records and microchip implants, so owners need to look into both the requirements for exit and entry. While some can complete the exit requirements set by China, they may not fulfill the requirements of the destination country.
In a worst-case scenario, a pet could be destroyed at customs if they don't meet a country's entry requirements.
As a country where rabies has not yet been eradicated, China is strict on issuing health certificates for cats and dogs — the only animals it categorizes as pets.
"It's a responsible act," Peng said. "If a dog from China with rabies bit someone in another country, it'd be a diplomatic incident."
ICVS helps about 2,000 families prepare pets to go overseas annually. About 40 percent of customers are Chinese, an increase of 30 percentage points since 2006. This is because more people are buying properties abroad, and, increasingly, pets are seen as family members, too.
Kiki Chen, who works for WorldCare Pet relocation agency, said she has noticed a significant increase in young Chinese taking pets with them when they study abroad.
Another factor is that airlines' restrictions also are complicated and are subject to change. That's why many are opting to use pet relocation agencies.
During an extreme marathon race in June 2016 in the Xinjiang Uygur autonomous region, 42-year-old Dion Leonard came across a small stray dog that followed him every step of the way. He named him Gobi and decided to take him home to Edinburgh, Scotland.
After briefly going missing in the provincial capital, Urumqi, Leonard was reunited with Gobi in August. He worked with Chen to prepare the dog to travel to Scotland, including all the paperwork and medical procedures.
"Without the agency, it would have been a difficult process because of the language barrier," he said.
Leonard decided to fly Air France from Beijing to Paris on Dec 31 first so Gobi could be in the cabin with him instead of in the cargo hold. He then drove the rest of the way to Scotland. On Jan 6, the pair had their first run of the year together on Leonard's favorite hill in Edinburgh.
While relocation services can bring peace of mind, and even figure out ways to save money on shipping, they aren't cheap. Boneham paid some 6,752 yuan ($976) just for the service fee for Benji, not including $120 to ship the dog as extra baggage.
Large dogs have to stay in the cargo hold. Aside from the costs of a relocation service, a freight company must be contracted for international moves, and the cargo charges are high. Also, the animals have to be loaded in the cargo terminal and wait for much longer.
It usually costs 12,000 to 20,000 yuan to ship a pet from China to the UK depending on the size of the pet, flight selected and fuel surcharges, Peng said.
But owners should not leave health checkups of their pets to the agencies, Peng said. "As an owner, you should be with your pet when you go to the animal hospital for vaccinations and microchipping," she said. "This way, you can save a lot of money by not paying agencies their markup and you can be present for a very important part of the preparation process, which is the legal vaccinations."