Veteran celebrity chef Ken Hom serves up his stir-fried life story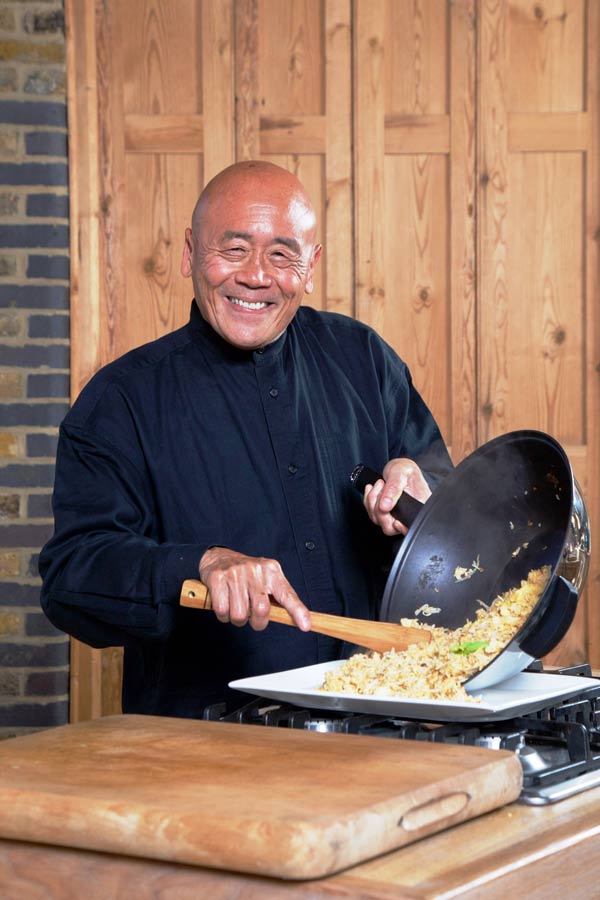 Ken Hom is a household name in the UK, a nation he has educated about Chinese food during the last four decades via his numerous books and cooking shows. [Photo provided to China Daily]
Chinese food recently overtook Indian as the United Kingdom's preferred ethnic cuisine, and few individuals have been as instrumental in overseeing this rise in popularity as Ken Hom.
One of the original TV celebrity chefs, Hom is a household name in the UK, a nation he has educated about Chinese food during the last four decades via his numerous books and cooking shows.
Hom has written more than 30 recipe books but, until, now his personal journey has largely gone untold. Hom's recently launched autobiography, My Stir-Fried Life, tracks the difficult development of a famously congenial man, from a penniless childhood in Chicago's Chinatown to being awarded an Order of the British Empire by the Queen in 2009.
"It's a Chinese story," Hom says from the bar at The Dorchester in Central London. "I think people in China will love this story because it's a bit of a reflection of contemporary China — rising from poverty to where China is today, a world economic power, and how fast that has happened, it's been amazing."
Hom says his Chinese heritage has been a welcome thread of consistency through a life lived across several countries.
Leaving Chicago as youngster, Hom ran Chinese cookery tutorials in San Francisco, before landing a dream role in the UK at the BBC with the hugely popular Ken Hom's Chinese Cookery series. Hom, 67, now resides in semi-retirement in the South of France.
"I feel Chinese and British, more than, say, Chinese American," Hom says. "From the beginning I've always felt more accepted here. America has a whole host of problems integrating various ethnic minorities. When I go around this country, I'm convinced that they've done a better job at it."
Hom lived in the US during a particularly divisive and difficult time for a Chinese American, as anti-Asian sentiment grew high in some communities during and following the Vietnam War. Hom says the cookery lessons he gave at culinary school in San Francisco offered him the chance to teach people the values and traditions of Chinese culture.
"And I'm proud to be Chinese," Hom says. "My heritage made me what I am. It's my Chinese values, the way I was brought up. And I'm happy I am able to use my cooking to spread understanding of what we're about."
Personally, Hom felt truly at home for the first time when he travelled to Hong Kong in the 1980s, where he could speak Cantonese, the language of his childhood, outside the bubble of foreign Chinatowns.
"I can't tell you that feeling to be in a place where people not only speak a language that you understand - I didn't speak English until I was six - but they all look like you," Hom says, his characterful face warming with the memory. "All of a sudden I was no longer an alien, which is a sensation I had never experienced. There was this kind of resurgence in pride I had, of not only being Chinese but being Cantonese. It's that kind of feeling, oh my God, I'm home! Even though we were in Chinatown in the States, we were a small island in a sea of non-Chinese."
Hom says that, professionally, he has been happy to see not only Chinese food but the work of chefs fall increasingly under the spotlight in the UK.
"Cooking was not really a desirable career when I started out. Now, you can't turn TV chefs off, you're inundated. It's glamorous now. And you see this shift that young people want to become chefs, which was unheard of," he says.
"The upshot of the whole thing is that the British people have become more sophisticated about Chinese food."
And he says Brits are now demanding more authentic Chinese food and moving away from the sweet-and-sour stereotype.
"More and more ingredients are available. If you go to some of the emporiums here, they are incredible," he says. "So, the opportunities are enormous. People are still hungry for it, and ready to take Chinese food to the next level."