Is seeking votes via social media a marketing ploy?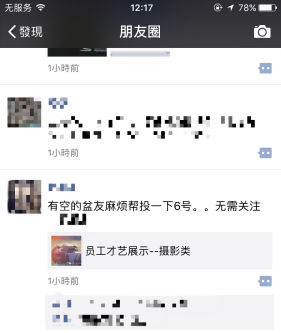 A screenshot shows an internet user seeking votes from WeChat friends by sharing a link. [Photo/Xinhua]
To vote or not is a question many Chinese face when their friends send them a link on social media asking them to vote (or "like") in order to win a competition or get discounts from restaurants and shops.
With online voting increasingly becoming a phenomenon, some are arguing that these activities could actually be a cunning way to promote business by organizers and brands. Some reports have emerged online that claim to expose the links between business groups and people making profits by developing polling software and working as online voters.
To vote or not to vote?
"My WeChat Moments is filled with online voting requests. I hate them but sometimes have to offer a helping hand because it's a request from a friend… This may be a dilemma for many people in this information society," Shu Minta, a woman in Jiangxi province, told China News Service. WeChat is a major social media platform in China.
People are over-exposed to online information nowadays. According to data from China's internet giant Tencent, over 90 percent of people use WeChat every day, and over 60 percent of them check real-time feeds on their WeChat Moments each time they open the messaging app.
"In China, many think that seeking votes does not require any effort, so they take it for granted. As a result, those who don't participate in the game become strange outliers…" said Peng Xiaoyun of Sun Yat-sen University.