Breathe for change: fighting student stress with yoga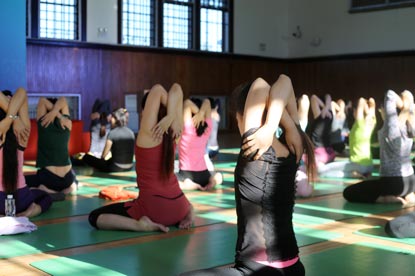 University students were practicing yoga under instructions of Yogi Yoga. [Photo provided to China Daily]
Yogi Yoga, a popular yoga institution in China, recently launched a campaign to tackle the problem of depression among Chinese university students.
They're making a tour to 10 top universities in Chinese cities such as Beijing and Guangzhou to demonstrate how to fight stress via yoga practice.
Its co-founder and Indian yoga master, Mohan Bhandari, said scientific researches show that yoga and meditation have positive effects on depression and anxiety.
He has developed some yoga positions that are helpful in stress management and teaches university students how to relax themselves via yoga practice. He shares the video online so that more students will benefit from yoga and opens a Sina Weibo account to answer questions from those who practice yoga.
Then "100 days, 100 universities" public-service campaign will last until the end of December. For the universities they don't get a chance to visit, they will send the local volunteers to teach students.
At every 7 am, they invite one yoga teacher to live broadcast professional yoga courses on Sina Weibo, to encourage more Chinese to learn the ancient practice.
Yogi Yoga also cooperated with Peking University and established a yoga training center, to offer one semester's free courses for the university's students.
"I want to share authentic India yoga with more people. Some practice may help the young Chinese university students to enjoy the important period of life, rather than suffer from stress and anxiety," said Yin Yan. She was editor-in-chief of fashion magazine Elle China and cofounded Yogi Yoga in 2003 after she went to India to learn yoga.
Related:
Study identifies compound to work with antioxidant against toxic stresses