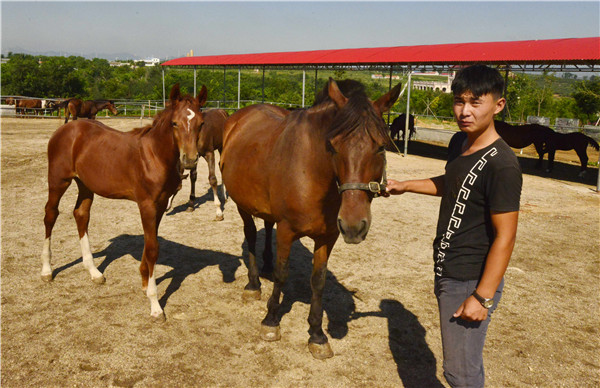 A keeper displays an adult Bohai horse and its foal at the Hesheng horse farm in Penglai, Shandong province. JU CHUANJIANG/CHINA DAILY
Fan Jiayi never expected that the profound feelings he had for a Bohai horse during his childhood would lead him to a lifelong career of raising horses and quite possibly save the breed from extinction.
At the Hesheng horse farm in Daxindian, a village in Penglai, Shandong province, Fan, the farm's owner, gently strokes a horse and whispers to it.
Fan's farm is China's sole base for preserving the Bohai horse, a famous breed in China. The Bohai horse was developed by interbreeding Mongolian horses and horses introduced from the former Soviet Union during the 1950s and '60s. The tall, well-proportioned and powerful yet gentle horses are found mainly in the northeastern part of Shandong province and the south shore of Bohai Bay.
The breed was used to pull carts and as packhorses in wars. But as mechanized agriculture grew more widespread in recent years, the number of Bohai horses fell sharply from its peak in the 1980s of more than 80,000.
Han Guocai, deputy director of the Horse Research Center at China Agricultural University in Beijing, said the number of Bohai horses had fallen to only 200 in 2007. Today, they are estimated to number about 1,000.