Chinese doctors launch project of 1,000 cataract operations in Cambodia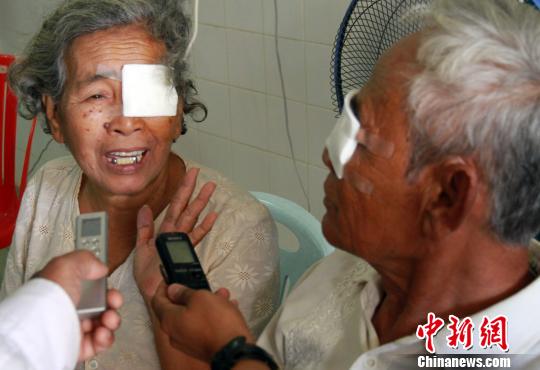 [Photo/Chinanews.com]
A group of Chinese ophthalmologists launched an over-two-year project on Sunday to help treat 1,000 patients with cataracts in Cambodia, officials said.
The eye doctors from China's Hainan province began their operations at the Kampong Cham Provincial Referral Hospital in southeastern Cambodia before moving to other provinces in the kingdom from September 2016 to December 2018.
During the period, five teams of ophthalmologists will travel to Cambodia to perform cataract surgeries for Cambodian patients.
Tan Qingsheng, charge d'affairs of the Chinese embassy in Cambodia, said the Chinese doctors would provide free-of-charge treatment to 1,000 cataract patients throughout Cambodia.
"China attaches great importance to the development of Cambodia's health sector, particularly helping to improve the health of poor people," he said during the launching ceremony of the project. "I'm confident that Cambodian patients with cataract will definitely get benefit from this project."
He expressed his belief that this humanitarian mission would contribute further to enhancing people-to-people relations between China and Cambodia.
Cambodian Deputy Prime Minister Yim Chhay Ly said the government strongly supported the project, saying it would greatly help improve eye health for Cambodians.
"This is a new testament to longstanding relations and good cooperation between our two countries and peoples," he said, expressing profound thanks to the government and people of China for help improving the well-being of Cambodian people.