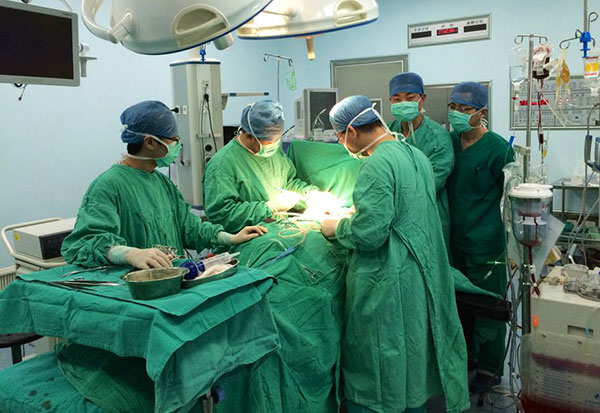 [Photo by Chen Jingyu/Asianewsphoto]
China's anti-rejection drug volume debunks claims, expert says
It cannot be true that between 60,000 and 100,000 organ transplants are performed on the Chinese mainland yearly using organs taken from executed prisoners, prominent transplantation experts said on Thursday.
Speaking at news conference after a symposium of the 26th International Congress of The Transplantation Society, held in Hong Kong, experts Jose Ramon Nunez Pena, medical officer of the World Health Organization, and Michael Millis, vice-chairman for global surgery and director at the University of Chicago's School of Medicine Transplant Center, dismissed the allegations - which were raised by Western critics of China as early as 2006-as implausible.
Pena, a transplant surgeon who has visited China often, said the claimed number is equal to the transplant activity of the entire world and is practically impossible.
Pena said that the WHO firmly and without reservation supports China's new ethics-based, transparent organ donor program, which must be free of corruption and financial incentives.
Transparency is the best guard against rumors, he said, acknowledging that China has taken many measures to ensure the fairness and traceability of the whole organ donation and distribution process.
"It is time to close the door to rumors and open the door to the facts," Pena said. "China now has joined the transplantation train along with the international community. We are all in the same train because we share the same principles and ethical practices."
Rumors about "organ harvesting" were said to be false in 2006, after an investigation conducted by the United States Consulate General in Liaoning province. The source of the rumor was Falun Gong, an outlawed group on the Chinese mainland, which alleged that the organs of more than 6,000 practitioners had been illegally extracted at Sujiatun Thrombosis Hospital in Liaoning, it said.
Yet some people with political influence have made the opposite claim. Former Canadian lawmaker David Kilgour and lawyer David Matas wrote a report in 2006 claiming that China had retrieved organs from criminals.