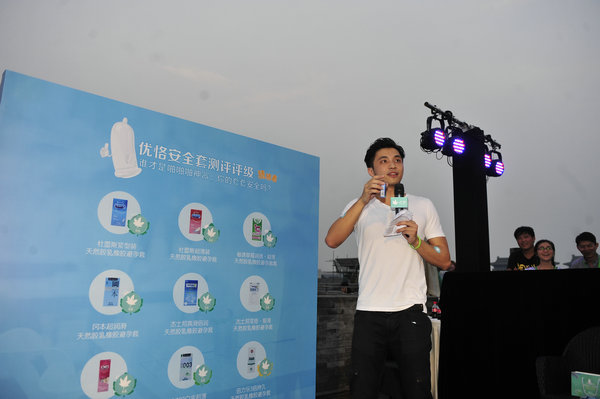 Zhao Jiaxi, co-founder of Okoer.com, speaks to consumers about the recent report regarding the quality of condoms.[Photo provided to China Daily]
Is the condom, which is widely used to prevent unintended pregnancy and sexually transmitted infections, as safe and useful as believed?
A report recently released in China tries to answer the question.
Last week in Beijing, Okoer.com-China's version of the German consumer publication OKO-TEST but with only an online presence-released a detailed report based on its testing of nine types of the most popular male condoms in China, both domestic and foreign.
The condoms came from Durex, Jissbon, Okamoto, ME・U, Sixsex, and Pleasure More.
Seven of the nine got an A-plus. One got an A, and one was given a D. The low score was given to a condom produced by the Chinese brand Pleasure More because of pinholes.
HIV and other sexually transmitted infections can be transmitted through pinholes in condoms, and the risk of unintentional pregnancy also increases.
"Almost all the condoms we tested were good to use. It is a quite reassuring result," says Hu Zheng, director of Product Test Organizations and Scientific Communication.
In late 2015, after an analysis of online and offline condom sales, the company selected nine types with the most sales to undergo the test.
It bought 1,000 of each type and transported them to Germany, where OKO-TEST, the company's official partner, conducted the tests in early 2016.
Most of the condoms were bought online, according to Hu.
The company adopted China's GB 7544 standard for male condoms, which is similar to ISO4074, as the main criteria.
To ensure the test's comprehensiveness, it also looked at tests done by Deutsche Latex Forschungsgemeinschaft Kondome e.V., Germany's rubber research association, and recommendations of the World Health Organization's documents, such as Male Latex Condom Specification, Prequalification and Guidelines for Procurement, 2010.
More than 100,000 people have read the report through WeChat.
Founded in 2014, Okoer.com has released more than 80 quality reports regarding more than 900 consumer products.