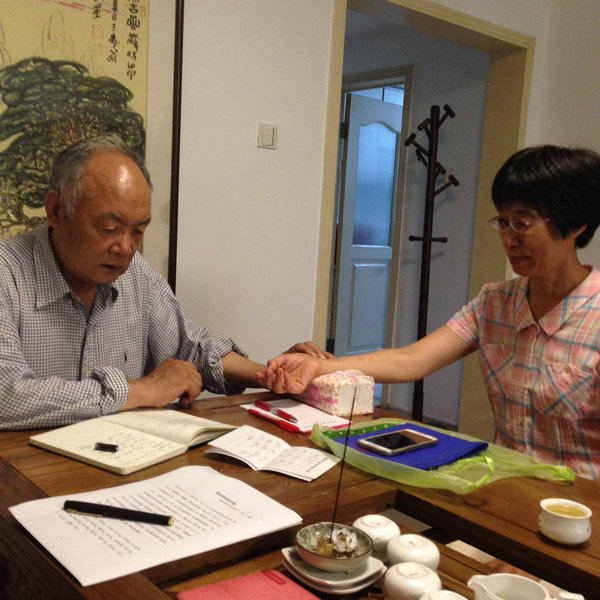 TCM doctor Guo Boxin examines a patient by taking her pulse.[Photo provided to China Daily]
From working in a textile factory to becoming a celebrated medical practitioner, Guo Boxin has taken an unconventional route. Liu Zhihua reports.
Zheng Shiyuan regards Guo Boxin as her family's savior. The 77-year-old resident of Weihai, Shandong province, was diagnosed with coronary heart disease in 2006. Doctors then suggested she undergo an operation to implant two heart stents.
Zheng decided to seek help from Guo, who was her friend and an experienced traditional Chinese medicine practitioner.
After taking herbal medicines for a few months, Zheng says her condition became much better. She later had a full recovery. Zheng also says that her daughter and husband also owe their lives to Guo.
Her daughter was diagnosed with a severely premature heartbeat in 2014. Her husband was found to have late-stage gastric cancer in 2015.
Under Guo's treatment, Zheng's daughter has recovered, while her husband is managing well.
Zheng and her family are just a few of the many patients Guo has helped. The conditions that Guo has treated include aplastic anemia, chronic cardiovascular disease and cancer, says Huang Yun, Guo's wife.
Unlike some TCM practitioners, who rely on medical tests and symptoms, the 73-year-old sticks to the traditional TCM method of "wang (observation), wen (smell), wen (listen) and qie (examination)" to diagnose and treat patients.
He is especially good at zhenmai, or identifying the causes of patients' problems through checking their pulses with his fingers, which he says was a basic technique used by TCM practitioners in the past.
Born in Tangshan, Hebei province, Guo moved to Shanxi province with his family as a little boy.
During his childhood, he did not encounter much TCM, except when his mother would seek help from a relative in Hebei who practiced it.
The turning point for him came when he was assigned to live in a village as part of his work at the ideology department in a textile factory in 1970.
He joined the factory, then the largest in Shanxi, in 1969, after working at a military farm for a while.
He had graduated from Shanxi University with a bachelor's degree in Chinese language and literature in 1968.
Life in the village was boring. But he found his elderly landlord was a great conversation partner, because he was well-versed in TCM.
The old man lent Gao ancient books on TCM, and he then developed an interest in TCM, which was still popular in rural areas where access to Western medicine was very limited at that time.
"At first, I just read the books, but gradually I got fascinated by TCM," says Guo.