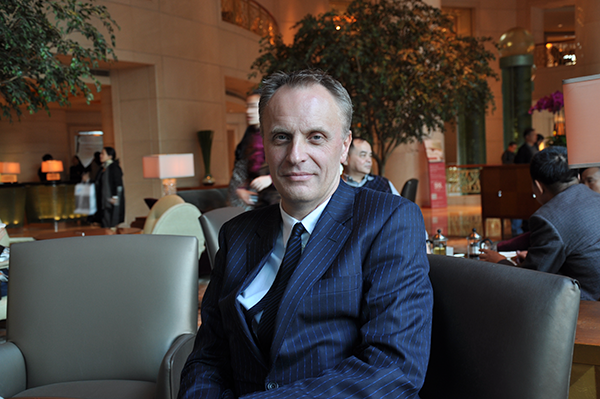 The Lancet's publisher Richard Horton has worked closely with Chinese medical experts and healthcare officials since 2008.[Photo by Liu Xiangrui/China Daily]
Many countries are struggling to achieve what China has done, the editor of a leading international journal tells Liu Xiangrui.
Richard Horton has been at the center of explaining China's health sector to the world - through his magazine.
Among the world's leading medical journals, the Lancet started an active collaboration with China in 2008, but the publisher and editor-in-chief says, he and his colleagues had begun to take an interest in the country even earlier as they realized that China's economic miracle would likely have an impact on health.
Horton, 54, has worked with the journal for more than two decades. He is an honorary professor at several European universities and is on an advisory board for the World Health Organization's Africa office.
In October, he won the Friendship Award, China's top honor for foreigners who make substantial contribution to the country's development in various fields.
Other than receiving the award, he was recently in Beijing to also attend a conference jointly organized by the Lancet and the Chinese Academy of Medical Sciences.
The London-based journal will publish 100 pieces of research by Chinese scientists to help international society better understand China's latest developments in medical science.
In 2008, the Lancet worked with the China Medical Board to publish a series of papers on the progress of China's healthcare reforms and analyzed the status of the health system as well as future challenges.
The collaboration turned out to be a "superb launch", Horton says, adding that it promoted the journal to develop a long-term relationship with China.
"We had such a positive experience of working with Chinese colleagues, who were clearly enthusiastic to have international collaborations," recalls Horton, who is now also an adviser to the Fuwai Hospital in Beijing.
In recent years, he says, there has been a surge in the number of research papers submitted to his journal by Chinese experts.
"China became the third biggest country after the United States and the UK in the number of submitted papers. It's evidence that China is growing massively in terms of its scientific power."