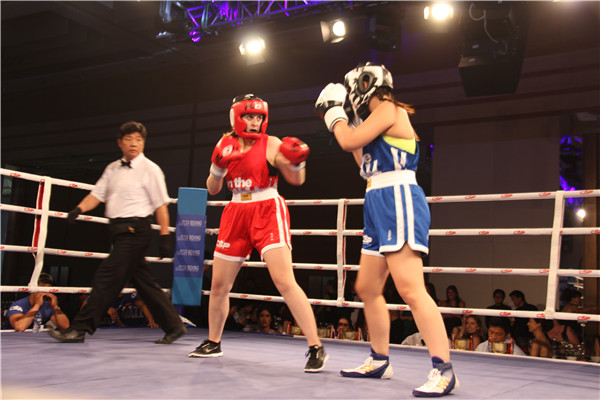 Laura Grant (in red), 25, of the UK fights against opponent Samantha Kwok, 24, of Australia, during the 2015 White Collar Boxing event at the Park Hyatt Hotel in Beijing on Sept 5. [Photo by Jiang Wanjuan/chinadaily.com.cn]
Boxing is not just something to watch on TV but a sport any office worker can take part in to improve their life, according to participants in Saturday's White Collar Boxing night in Beijing.
Originating in New York in the late 1980s, White Collar Boxing, where office workers with no prior boxing experience train to fight on special occasions, has introduced the pugilistic art to many busy professionals in China, especially among expats.
"I have done a lot of sports, and nothing has pushed me as hard as boxing," said 25-year-old Lauren Himle, a sales person with Ecolab and one of 16 contestants whose occupations ranged from teacher and manager to diplomatic personnel. "It feels great and gives you a certain confidence that you can carry into your personal and professional life".
Himle believes white collars like her have a problem, as most sit in an office all day and boxing is a good way to release stress and feel alive again.
Coach Jerson Estoro, 35, from the Philippines, was one of the trainers of this year's contestants. In the past three years of teaching in a Beijing gym, Estoro said he had noticed the growing popularity among expats as well as local Chinese.
Motivation for his customers includes accepting a challenge, relieving stress, keeping fit and staying competitive.
"Sometimes, sitting in the office all day can be so exhausting," he said. "As they come out of the office to box, they feel good again after that. It's a good way to relax and workout".