Military doctor came of age on battlefield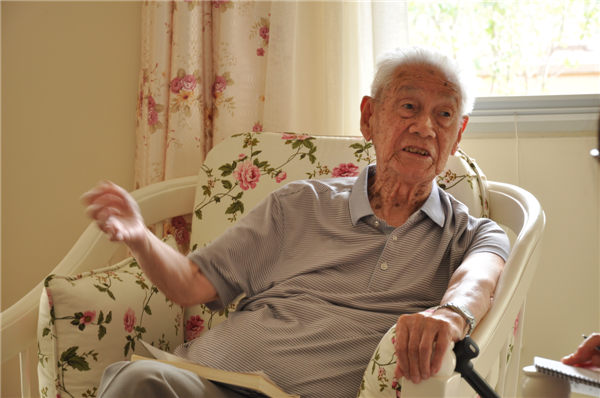 Dong Bingkun, 93, experienced the War of Resistance against Japanese Aggression (1937-45) as a doctor behind the frontlines. He recalls those years with pride. LIU XIANGRUI/CHINA DAILY
For Dong Bingkun, becoming a military doctor for the Red Army was not initially his choice of a life path, but he doesn't regret it.
The 93-year-old, who experienced the War of Resistance against Japanese Aggression (1937-45) as a doctor behind the frontlines for the Eighth Route Army, still recalls those years with pride. In his mind, the pictures are vivid.
"During the war, people like us had simple ideas-to do all we could for the victory," says Dong calmly, as he spends the summer at his daughter's home in suburban Beijing.
"We didn't know when victory would arrive. We actually didn't talk about it much. Nor did we think much about life and death."
Dong was only 16 when he joined the Eighth Route Army's renowned Division 120, led by General He Long. Born in rural Hebei province, Dong had dropped out of school after finishing his primary grades.
Several years later, Dong's family learned that the health sector of Division 120, based not far from their town, was recruiting new soldiers for training as military doctors. For Dong, it seemed like a way to avoid capture by the advancing Japanese troops and being forced to serve as a slave worker or become a traitor, he says.
He still remembers the first day in the army.
"After filling in a simple sheet, we were soldiers. Then each student was given a complete uniform and a cotton quilt," Dong says with a smile.
The class, with fewer than 10 students, was taught by three doctors. No theoretical knowledge, such as how to do an autopsy, was given. The class learned simple things like binding up a wound and disinfecting it.
Within a year the division experienced four large-scale Japanese mop-up campaigns, carried out against the Eighth Route Army and its anti-Japanese base, and was forced to make strategic withdrawals.
"We were busy moving around and had little time for classes," says Dong.
The students had no textbooks. They carried their only blackboard on their backs while marching.