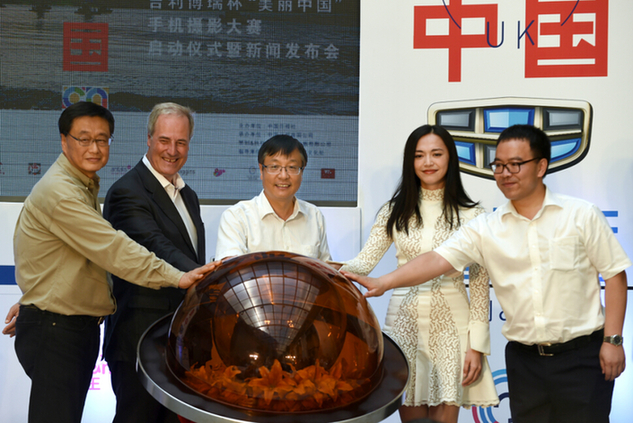 Wang Wenlan, Lord Michael Bates, Kang Bing, Yao Chen and Yang Xueliang (from left to right) attend the launch ceremony of 2015 Amazing China Photo Contest in Beijing on Monday. [Photo by Mao Yanzheng/China Daily]
The 2015 UK-China Year of Cultural Exchange was formulated by the Chinese and British governments at the UK-China Summit in London during Premier Li Keqiang's visit in June last year to showcase the very best of Chinese culture in the UK and British culture in China.
With a UK season in China in the first half of this year and a Chinese season in Britain in the second half, the events are aimed at further deepening China's existing relationship across arts and creative industries.
In the contest launched on Monday, contestants can submit photos of scenery, architecture, humanity, food, family life or traveling in China. Originality and creativity are stressed, and organizers encourage participants to discover the beauty and harmony of modern China.
"Please pick up your cell phones and show how beautiful China is through your lenses," said Kang Bin, deputy editor-in-chief of China Daily.
Britain's Lord Michael Bates, honorary photographer of the competition who has participated in the charitable "Walk for Peace", said photography is an important part of his walks.
"I've never had any doubts about how beautiful China is. When I'm walking, I encounter amazing lights, shades and people that demand to be captured", he said.
"Politics and economics may divide the world, but culture connects. Diplomacy is at all levels, and this program is cultural diplomacy. We are reaching out to different people from a different culture".