Uygur student builds future in capital while studying for advanced degree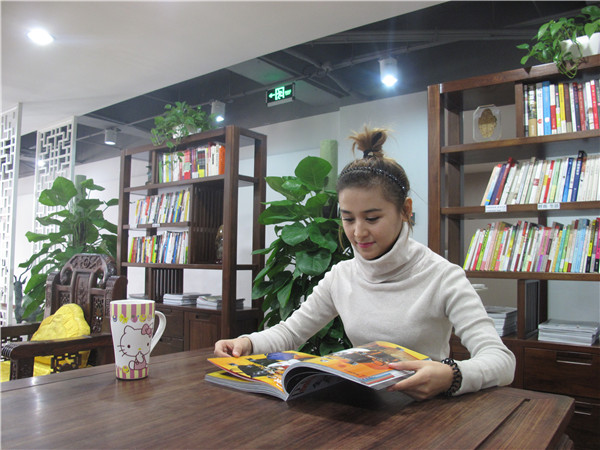 Yihebale Ilham, known as Bale to her colleagues, arrives in Beijing in January 2013 to work and study. [Photo provided to China Daily]
In the nearly two years she has spent in Beijing, Yihebale Ilham has had most of her clothes mailed to the capital from her hometown in the Xinjiang Uygur autonomous region as she didn't want to waste even a moment on shopping.
Yihebale, known as Bale to her colleagues, arrived in Beijing in January 2013 to work and study.
The cultural company the 24-year-old works for runs a media park in a suburb of Beijing, next to the campus of the Communication University of China.
Yihebale shares an apartment with eight colleagues in a university dormitory, which is rented by her company. She has the smallest of the three bedrooms to herself.
"I am Muslim, so my living and dining habits are different from the others. I lived in a big dorm before with five people, but it wasn't convenient," Yihebale said. "They felt bad when eating non-halal food in the room, but sometimes there was no choice."
In her own space, about 12 square meters, Yihebale can make simple meals on an induction cooker. She has to make most of her own meals because there are no halal restaurants serving food allowed under Islamic dietary laws anywhere near her dormitory.
"I usually fry some vegetables and boil rice for lunch, while for breakfast and supper, I mostly have naan and milk tea. The naan is also mailed by my mom, once a month."
Yihebale, who is the oldest child in her family and has a younger brother in high school, said she is satisfied with her current living arrangements.
Born in a small county in north Xinjiang, she was the only Uygur student in her schools from her primary through high school education. Thus she got used to interacting with other ethnic groups.
As a Muslim, she takes a day off on both Eid al-Fitr and Eid al-Adha, two important Muslim festivals.
As part of the department that manages services for the company, Yihebale's work mainly involves organizing activities, such as sports meets, and speech and singing contests. She has also helped work on fixed assets appraisals.
"Although she did not major in finance, we gave her the chance to learn more and achieve more, because she is a smart and self-motivated employee," said Feng Fei, manager of the department. "We would like to promote staff like her in the future."
Yihebale is also studying for a master's degree at the Communication University of China.
"I chose the discipline of International Chinese Education, which is different from my undergraduate major of broadcast anchoring," she said. "I knew it would be hard for me to get a job as an anchor here in Beijing."
All her personal time is committed to studying, taking courses on weekends and attending lectures during her work days.
"I rush eating after work and rush to different buildings for lectures. It's tough, but worth it," she said, with a smile. "I want to be accepted by this city for my own efforts."
Her relaxation comes each night when she phones home. She describes everything good that happened that day to her mother more than 3,000 kilometers away.
"I felt sad and perplexed at the beginning, and asked myself why I came here alone for an uncertain future," she said, looking down and staying silent for some seconds.
"But as the days have gone by, I know I've grown up," she continued, a smile back on her face.