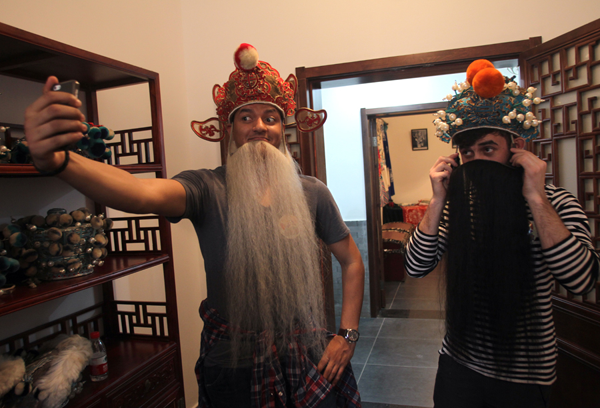 Expats living in Beijing learn about the art of Peking Opera. [Zou Hong/For China Daily]
Around 80 percent of young expats in Beijing are interested in Chinese culture, especially Chinese food, traditional customs and folk arts, according to a survey conducted by Beijing Municipal Commission of the China Communist Youth League, via China Youth Daily.
The research was conducted last year among 900 expats aged between 18 and 35 from 86 countries. All of the respondents had lived in Beijing for over six months, and the largest nationalities were South Korea (18.6 percent), the US (12.0 percent), Japan (6.4) and Canada (6.1).
The profile of the surveyed group was consistent with that of the expat inflow, according to the Beijing Exit-Entry Administration Bureau.
The most attractive things about Beijing to them were cultural atmosphere (34 percent), job opportunity (21.7 percent) and friendliness of people (20.2 percent).
As China's capital, Beijing had 90,000 expats living in the city by the end of 2013.
Among those surveyed, 33 percent had lived in Beijing for less than a year; 35 percent between two to seven years, and 39.5 percent over eight years.
The working and living locations of the surveyed expats were rather concentrated. A large number of working class lived in Zhongguancun area in Haidian district and Yizhuang Economic and Technology Development Zone in southeastern Beijing.
Those on official business tended to stay in the Jianguomen, Sanlitun and Liangmahe's embassy areas. Expat students were mostly found in Haidian district. Resident expats were concentrated in Wangjing, Maizidian and Wudaokou areas.
Around 80 percent of those surveyed could speak Chinese on a moderate level and above and 43.7 percent can speak fluent and very fluent Chinese. Over 60 percent said they enjoyed communicating with their local friends and neighbors.
As much as the majority loved Chinese culture, their focuses are different. Those from North America and Europe generally felt Chinese culture is "interesting, new and would like to try". Those from Africa, Southeast Asia and Central Asia shared a sense of identity with China's development as a developing country.
Those from Japan, South Korea and Singapore tended to feel stronger for China's traditional values and culture. A large number of South Koreans were studying traditional Chinese medicine and Japanese were studying ancient Chinese language and philosophy.
Overall, 80 percent of those surveyed were "confident" and "very confident" about China's future, and were very concerned with the government's moves.