Master of safety checks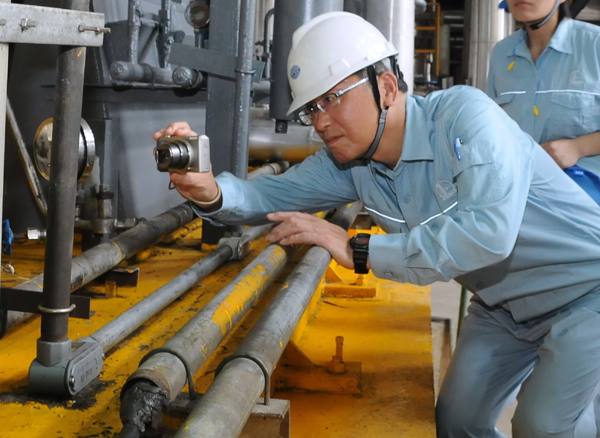 Hiroshi Sano carries out equipment check at a Sinopec Maoming Petrochemical Company facility. [Photo by Zhang Qiang/China Daily]
"Making profits is important, but production safety should always come first ... It is very important to train machine operators so that they can detect problems and deal with them on the spot."
This is the mantra of Hiroshi Sano, a Japanese technical adviser working for Sinopec Maoming Petrochemical Company, one of China's biggest oil refineries. Sano is a typical "company man", having worked for Idemitsu Kosan Co Ltd, a leading Japanese petroleum company, for 42 years before retiring in 2012. He joined Sinopec Maoming in June the next year.
A strict equipment check and maintenance system can help prevent leakage in oil pipelines, which can cause pollution and can lead to deadly explosions. In recent years, the most tragic accident caused by leakage (from 27-year-old oil pipelines) took place in Qingdao, East China's Shandong province, on Nov 22, 2013, killing 62 people and injuring 136.
No wonder Sano says he is happy that the key points of his training sessions have been posted and discussed by Chinese machine operators on Weibo, a popular micro-blogging social media. Sano has delivered about 30 lectures on production safety and equipment maintenance since he joined Sinopec Maoming.
In China, many oil pipelines were built in the 1980s or earlier and therefore need proper maintenance. But maintenance is not an easy job. China's rapid development means many buildings and water pipelines have been built without taking the oil pipelines into consideration. "That poses a big challenge", Sano says. "You need to thoroughly inspect the pipelines to detect and solve the problems as early as possible to prevent accidents."
TPM system
Idemitsu adopted the TPM (total productive equipment maintenance and management) system in the 1980s, which greatly helped improve productivity and reduce equipment malfunctioning. And although Sinopec Maoming introduced the TnPM system in 2007, it was not until Sano joined the company in 2013 that it was implemented in letter and spirit.
Sano guided the work of formulating all the technical standards and regulations before the refinery units were first overhauled. Within months, he inspected all the 20 workshops and 24 sets of equipment at Sinopec Mao-ming. Here his photography skills came in handy. He took more than 1,000 photos of the pipelines and other facilities and used them in the reports and lectures to teach managers and workers about the problems and how to solve them.
Fei Zhixiong, deputy director of the tactical unit of Sinopec Mao-ming, says Sano's presence at the overhaul sites "really boosted everyone's confidence".
With the goal of achieving "zero pollution, zero leakage", more than 7,000 problems were detected and solved last year. As a result, Sinopec Maoming's equipment failure rate dropped by 15 percent, according to its company report.