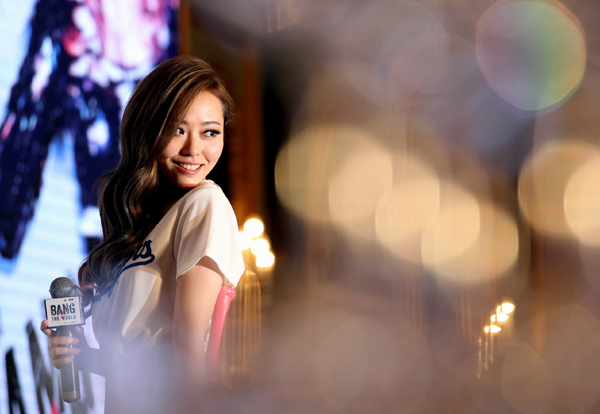 Zhang Liangying recently launched a national tour in Beijing. She rose to fame in a reality TV show a decade ago. [Photo by Zhang Wei/China Daily]
It has been 10 years since singer Zhang Liangying, also known as Jane Zhang, shot to fame by winning third place in the 2005 season of the Super Girl contest, a reality TV show.
The national all-female singing competition, broadcast by Hunan Satellite TV Station, drew more than 400 million viewers.
Dubbed the "dolphin princess" for her high-pitched voice at the time, Zhang was compared to Mariah Carey by her fans, but some critics said her girl-next-door image was not polished enough, and she was not thin and fashionable enough, and her overall image did not guarantee a bright future.
However Zhang, 31, has transformed into a mature singer. She lost weight, learned how to apply makeup, found her own fashion style and opened her own studio. With a string of popular albums, including The One, Believe in Jane and the latest, The Seventh Sense, Zhang has launched a national tour, titled Bang the World. Kicking off in Shanghai on June 27, the singer will perform in seven cities in China.
Sitting in a five-star hotel in Beijing, Zhang is dressed in a strapless blouse, a pair of tight black suit pants and a pair of red high-heeled sandals.
"I am so starved right now. To fit into this outfit, I haven't eaten since yesterday," laughs Zhang. "But it's been 10 years and I am getting used to it."
She says the best way to celebrate her first decade as a singer is to perform. Zhang says her fans can expect hits from her throughout her career.
Her voice is still an obvious draw. Zhang has won Chinese music awards for "best female singer" and "best album" more than 40 times. Outside China, she performed her first North American concert in 2007 in Pasadena, California, and appeared on the Oprah Winfrey show, The World's Got Talent, in 2009.
Born in Chengdu, Sichuan province, Zhang spent most of her childhood with her mother, an office clerk. Her parents divorced when she was 13 and two years later her father died.
Zhang graduated from Sichuan University's Foreign Language Department and studied English. She performed at local pubs as a student, which introduced her to a broad range of music, especially Western.
Taiwan veteran songwriter and producer Jonathan Lee once said that of all the young singers who rose to fame by participating in reality shows, Zhang is one of the few success stories.
"She has moved beyond instant fame and maintains her popularity by branding her music," Lee said earlier.
Looking back on the Super Girl contest, Zhang says: "It began with a dream, a dream that exists inside all of us. I participated in the show because of my pure passion for singing. But after that, it became a whole different thing."
In 2013, Zhang slowed her expanding career. She stopped working and reflected on the past for a few years, asking herself questions like "What kind of singer I want to be?" "Why do I sing?"
"For a long time, I worked very hard to prove myself. But when I asked myself those questions, I could not answer them," says Zhang. "I felt that I needed time to be alone and re-think not just my identity as a singer but also my life."
During that year, she spent time with her family and went traveling. When she decided to start over again, Zhang participated in Hunan Satellite TV Station's popular reality show, I Am a Singer, a competition for professional singers.
The audience was impressed by not just her gorgeous clothes but also her ability to perform a variety of music styles, including the energetic song Bang Bang, which was sung by British singer Jessie J and US singers Ariana Grande and Nicki Minaj, and John Legend's piano ballad All of Me.
"For me, this search has gone on for years. If you listen to my first album, you will find that I put every musical element that I could think of in it. I was not sure which style was right for me, so I put them all together," she says.
"But now, I am completely aware of what kind of songs I should sing and want to sing. I won't do it blindly. I am having my best days right now."