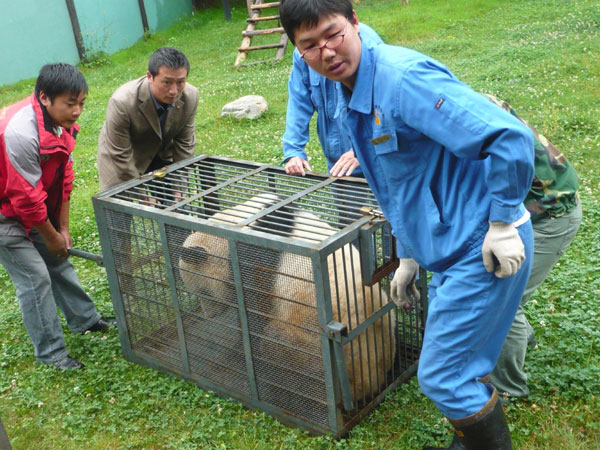 Staff members at Yunnan Wild Animal Park escort a panda to Sichuan province in 2009 in the hope that it will conceive. [Photo provided by Yunnan Wild Animal Park]
Wide variety of special arrangements required for transporting animals of all shapes, sizes and temperaments.
Hate having to pack before traveling? It's nothing when compared with preparing giant zoo animals for a move.
A zoo may need to place a cage near the animal two to three years before a move, said Huang Zhihong, deputy director of the technological exchange department at Guangzhou Zoo in Guangdong province.
Take an elephant as an example. To get it to step into the cage without stress, preparations can be lengthy if it has not been trained from childhood.
"An elephant has good memory and intelligence, so it would know that it is about to move when it sees the cage," Huang said.
Guangzhou Zoo placed a cage near Manling, a female Asian elephant, more than a year before moving her to a zoo in Guiyang, Guizhou province, in May to meet a male partner in the hope of conceiving.
Keepers placed food at the cage entrance to lure Manling in. They closed the door only a little at first and shut it more later to let her know it was safe inside.
Li Youlong, head of the animal management department at Yunnan Wild Animal Park in Kunming, said, "This is the most difficult part in getting the animal into the cage."
There are three options - luring animals with their favorite foods, driving them inside a cage, or using an anesthetic. But because drugs can harm an animal's health, they are seldom used, Li said.
While preparing a civet cat for a move, keepers at the park in Kunming worked hard to get it locked in a cage. But once inside, it lay on the ground without moving, "playing dead" to fool them. When the keepers hurried to open the gate to rescue the precious animal, it escaped.