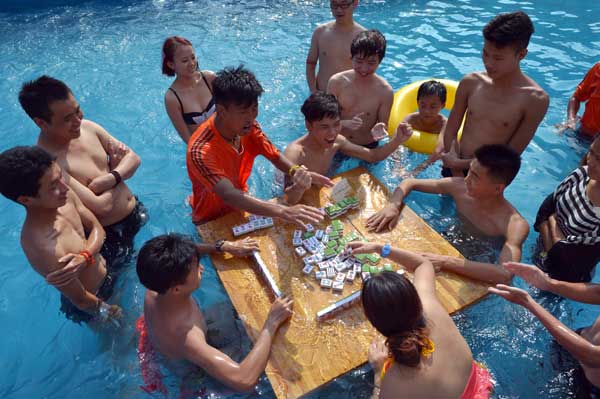 People play mahjong in a swimming pool at a park in Chongqing. [Photo by Ran Wen / For China Daily]
Summer heat doesn't mean hiding indoors. If you are careful and stay cool, there is plenty of fun to be had.
Summer is hot, but it is also one of the best seasons to have fun in the sun. The sweltering summer days usually hit China in the month of July. As July 7 - called xiaoshu in the Chinese lunar calendar, which literally means "a little hot" - has just passed, every Chinese knows that the worst heat waves are about to hit.
When the mercury shoots up, heatstroke becomes a genuine health concern that warrants serious attention, and no one should stay in the scorching sun for too long. The lingering heat can also cause other ailments and lead to discomforts, including sunburn, indigestion, headaches, bubbling colds, mouth ulcers and low spirits.
However, as the temperatures soar, people across China are resorting to time-tested ways to escape the heat. Spending too much time in an air-conditioned environment, which promotes the growth and spread of microorganisms and then leads to health problems, is not a good idea. That's why many of us seek water - a healthier way to stay cool.
Water offers many ways to have fun in summer, from swimming to playing chess - or even mahjong.