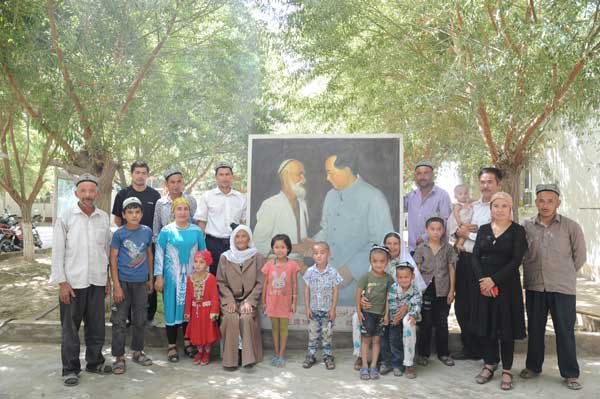 Children and grandchildren of Uncle Kurban pose in front of a giant picture depicting the ethnic Uygur man's meeting with Chairman Mao in the 1950s. Photos by Sun Dahong
He was de-deified at the end of the "cultural revolution" (1966-76), but Mao Zedong continues to be worshipped in some remote parts of China. Wang Jiaquan and Li Huaiyan from Xinhua report.
In the largely Buddhist hamlet of Man'en, New China's founder Mao Zedong is a god as revered as any other. Most of the ethnic Dai villagers keep a small shrine of Mao in their homes, despite the "great helmsman" being de-deified after the end of the "cultural revolution" (1966-76).
A large portrait of Chairman Mao hangs in the living room of Ai Pa, with a smaller image of a senior Myanmar monk by its side. This arrangement was a suggestion from the Buddhist clergyman, who presided over a prayer service for Ai Pa's new house in 2000.
When Ai Pa requested a portrait of the monk to be used as a "home guardian" after the ceremony, the monk insisted his image be placed in a subordinate position to that of Mao, saying that Mao was the real savior and guardian of the ethnic Dai people.
Loving everything about Mao, from his quotations to the passionate red songs, Ai Pa remains a loyal Mao fan even though his family suffered during his rule.
Ai Pa's family was classified as landlords during the land reform in the 1950s, and his father fled to neighboring Myanmar only a few days after his birth in 1957 in fear of penalties as denouncement campaigns against landlords swept Menghai county in Xishuangbanna in Southwest China's Yunnan province.
As the descendant of a landlord, Ai Pa faced discrimination growing up. He was rejected when he registered to join the People's Liberation Army.
Indeed, Ai Pa does think his family was wronged. "My ancestors were all poor peasants. It was not until my grandpa reclaimed some wasteland that our family began to own some paddy fields and hire a few laborers," he says.
However, the adversities did not make Ai Pa resentful. "A Buddhist should not hold a grudge or grievance," says the 56-year-old.
He says he admires Mao because the late leader was a man who truly wanted to do good for the people, and he appreciates the values of equality that emerged in the Mao era.
Most villagers owned no land before the land reform in Xishuangbanna, and a feudal lord claimed ownership of all land. Peasants had to shoulder the heavy burden of taxation, according to He Ming, an ethnic studies professor at Yunnan University in Kunming.
Ai Pa says that when he was a child, older people in the village told him that Mao was like the Monkey King in the traditional Chinese fairy tale of Journey to the West, who was invincible and was commissioned by heaven to bring fairness and equality to the world.