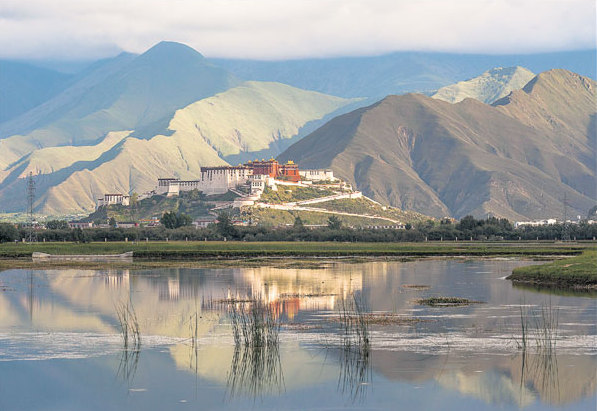 Chamadao, Lhasa. Lharu Marsh, the view behind the Potala Palace at sunset, by Michael Yamashita. Photos Provided to China Daily
My China Dream | Michael Yamashita
As a National Geographic photographer, Michael Yamashita zooms in on places too far away for most of the outside world to see otherwise. Xu Jingxi reports in Guangzhou.
Driving around the area behind the Potala Palace in the Tibet autonomous region's capital Lhasa, National Geographic photographer Michael Yamashita from the United States saw a scene that he imagined a trader traveling to the holy palace along the Tea-Horse Road might have seen centuries ago.
The mountainous stretch was devoid of modern buildings. The palace rose from a vast lake in the middle of a wetland. Its perfect reflection on the water made it appear as if it was floating in the air.
"There it was, hiding in plain sight - my vision of paradise. Shangri-la," Yamashita writes of that moment in his latest book, Shangri-la: Along the Tea Road to Lhasa.
The book chronicles his journey from 2008 to 2012, when he traced the paths mule-caravans took tea traders from today's Yunnan province in southwestern China to Central China via Sichuan province, through Tibet and on to South Asia from the Tang Dynasty (AD618-907) through the mid-20th century.
Shangri-la, a synonym for "earthly paradise", is described in the 1933 novel Lost Horizon by British author James Hilton as a mystical and harmonious valley hidden in the Kunlun Mountains. Today, it evokes Westerners' imagination of the mysterious East and has been sought by explorers from around the globe.
Although Yunnan's Zhongdian county was renamed Shangri-lain 2001 to attract tourists, there area thousand places may be considered Shangri-la. Tibetan areas are Yamashita's Shangri-la - "a paradise for photographers".
Yamashita is amazed by the brilliant rainbow of hues cast by Sichuan's Jiuzhaigou valley. He's often asked if he enhanced the photos he shot there. He has not.
"Jiuzhaigou is the most amazing landscape I have not ever seen in any other place in the world," Yamashita says.