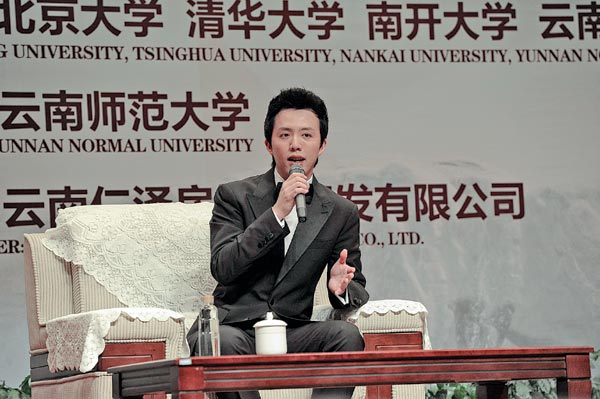 Li Yundi shares with piano students on tips to keep their ideals and dreams for music alive at Yunnan Normal University in Kumnimg on Wednesday. Photo provided to China Daily
As the seventh speaker at the Southwest Associated University Forum, Chinese pianist Li Yundi performed a solo concert and offered advice to young piano students on how to keep their ideals and dreams for music alive at Yunnan Normal University in Kunming, capital of Yunnan province. ian
From 6 am on Wednesday, thousands of students and Li's fans waited in a long line outside the university's music hall hoping to lay their hands on one of the 130 available tickets to watch the highly anticipated performance.
Chen Shuyu, 11, a student at the primary school affiliated to Yunnan Normal University, was accompanied by her mother to the lecture. Chen started playing piano at age 6 and longed to see Li's performance.
"It's a great opportunity to watch such a great pianist play in Kunming. What Li said is inspiring to me and reinforced my determination to continue playing music," the girl says.
Li played six solos, most by the world-renowned Polish composer Frederic Chopin. The audience cheered after each piece, while the students and fans who failed to secure tickets applauded at the giant screen outside the hall.
Li then gave one-on-one instructions to two piano majors at the university. The two students became emotional at the close interaction with their idol.
Li won the championship of the International Chopin Piano Competition in Warsaw, Poland, at the age of 18. Since then, he has been an inspiration to more than 50 million Chinese piano students, says Yang Lin, president of Yunnan Normal University.
"At that time, I didn't expect to win the championship. My teacher told me to learn from other famous pianists," Li says. "However, dreams are really important for me and all of you. People come across many troubles and difficulties, but based on my career, I believe learning music needs confidence, persistence, courage and focus.
Related:
Music connects Canada and China
Video: Canadian National Orchestra tours in BJ 
Chinese and Belgian dancers to launch new Genesis world tour