Reporter's return to BBQ business sizzles online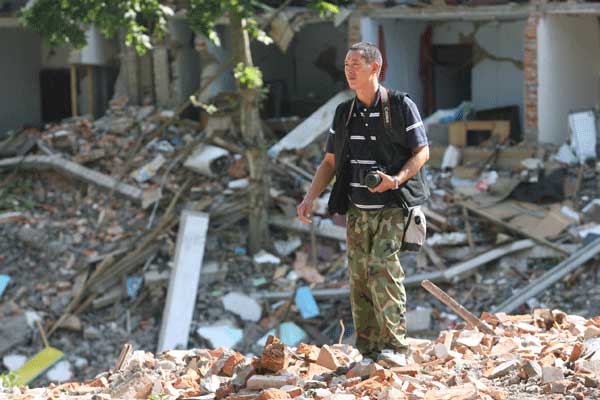 Zhu Changzhen's reporting career spans 15 years.[Photo/Chinadaily.com.cn]
After 15 years of working as a journalist, Zhu Changzhen is returning to his former profession - selling barbequed mutton skewers.
Money is main reason.
"My salary hasn't increased for a decade," he wrote on his micro blog in July. The post was forwarded more than 25,000 times.
The 45-year-old works for the Dahe Daily in Henan's provincial capital Zhengzhou. He has earned 4,000 yuan ($650) a month for the past 10 years. It was a high income then but not today.
"Housing prices have increased tenfold in the past 10 years," Zhu says. "I can't support myself with a stagnant salary."
Reporting has also proven dangerous for Zhu. He recalls being ambushed by villagers upon entering a remote settlement of 13 families in Yunnan province to cover the murder of disabled coal miners, falsification of evidence and blackmail of the mine's owners. Eleven men received the death penalty.
"They thought I was an undercover cop," he says.
Zhu was rescued by actual police called by his colleague.
His son was stalked and threatened by several men in 2005 after he reported on a local prosecutor who forced women into the sex trade, Zhu says.
"The prosecutor's relatives hired gangsters to intimidate me and my son after my report put him in jail," Zhu recalls.
The father's feelings about his boy are a mix of pride and regret.
His son trained at a martial arts school near the Shaolin Temple and recently won a championship.
But Zhu is sorry he wasn't there when the boy went deaf after enduring several days of fever at age 2.
"I was busy at work when he developed symptoms, and it was late when my wife sent him to the hospital," he recalls.
Zhu's wife of 24 years, Han Hongli, says her husband has remained so busy that they've never traveled as a couple.
"He has even worked through Spring Festival," she says.
Zhu says he owes his family - and himself.
"Journalism is for young people with passion, energy and time," he says.
"Now, I'm more concerned about my family than my job."
So, after months of consideration, he decided to return to selling mutton skewers. Zhu says that he still loves his job and will continue reporting, grilling in his spare time.
The former farmer sold kebabs in Henan's Pingdingshan city from 1995 until '98, when a local newspaper offered him a job since he'd regularly contributed articles.
"The mutton was real in the '90s, but most vendors now use pork or even duck meat," he says. "I want to change that practice."
Zhu spent 30,000 yuan to lease two hills for goat raising. Many Web users support his career change. Some even offered to design his eatery for free.
He asked them to help him name the place and chose one of the hundreds of proposals - Sheep Without a Crown.
"People call journalists 'kings without crowns', but that's no longer true," he explains. "They're vulnerable and powerless - less like kings and more like sheep."
Qi Xin in Zhengzhou contributed to this story.