Peking University Third Hospital has recently announced that its new 3-D printed orthopedic implants have produced good results in clinical trials.
Using a printer to produce medical implants, body parts and living organs may sound like science fiction, but it is not.
Scientists in a few countries, such as the United States, have used 3-D printing, a process of laying down successive layers of material in different shapes to make a three-dimensional solid object, according to a digital model.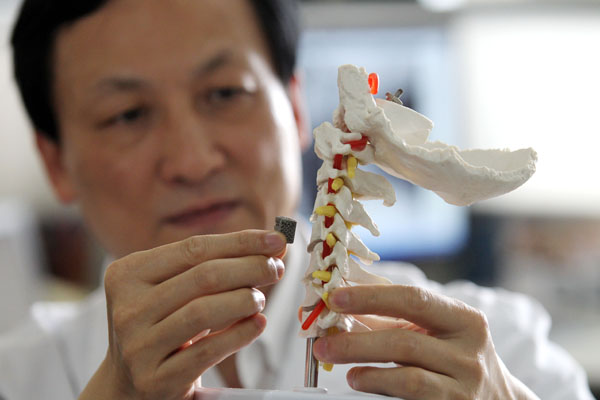 A 3-D printed medical implant is displayed at Peking University Third Hospital in Beijing. More than 50 patients have used dozens of such implants.PHOTOS BY ZHU XINGXIN / CHINA DAILY
The 3-D objects are used in three ways: for surgery simulation, to produce lifesaving medical implants and artificial body parts, and to create living tissues and organs for drug testing.
In China, Peking University Third Hospital recently announced its orthopedics department had produced a new type of orthopedic implants using a 3-D printer. The implants have produced good results during clinical trials.
"We started the clinical trial to test those implants last year, and all the patients participating in the trial are recovering well," says Liu Zhongjun, director with the department.
Cooperating with a Beijing medical device company that owns an imported 3-D printer, the hospital has produced dozens of hip replacements and artificial vertebral bodies. To date, more than 50 volunteer patients have tried the implants.
The test is the first time that 3-D printed artificial vertebral bodies are used in human bodies in the medical world, although artificial vertebral bodies have been used in orthopedic surgeries for years, Liu says.
The material is nothing new. The hospital uses titanium powder to print, a special metal that has been applied to make body implants for decades.
But the shapes of the 3-D products are very different from traditional ones, in a positive sense, Liu says.
Orthopedic implants are widely used for patients suffering from bone damage caused by injuries or diseases. They are inserted into joints and bones to restore normal functions, such as spine implants to help anchor the spine.