Don't stretch yourself

More Chinese are taking up yoga and a flood of studios teaching the discipline are opening across the country. But as Liu Zhihua finds out, inexperienced students may be risking strain and injury.
Yoga is now a mainstream exercise regime worldwide, a far cry from the 1960s and '70s when you had to go to a retreat in India to practice.
In the new millennium, it is gaining popularity at rocket speed in China. Although there are no authorized statistics on the number of yoga shala in the country, a simple search online for such a studio will pop out hundreds of results in any big city.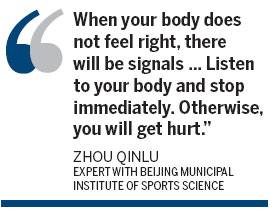 The country's urbanites have embraced yoga for exercise, relaxation and its health benefits. They believe the low-impact exercise can help them shape up and slim down, and view yoga as an alternative treatment for some physical and psychological conditions, such as joint and muscle-related pain, stress and depression.
But experts warn that yoga, like any other exercise, can inflict injuries that cause muscle strain, tear ligaments, or bring about even more serious injuries.
"With yoga's explosive popularity in China, there are many yoga instructors who lack the training necessary to recognize if students are headed toward injuries," says Zhou Qinlu, a fitness expert with Beijing Municipal Institute of Sports Science.
That's bad news for yoga students, as Zhang Huijie, a young woman in Shanghai, knows from personal experience.
She started practicing yoga at a famous studio in late 2012, taking part in normal yoga, and then in "hot yoga", a form of yoga that takes place in a room heated to 40 to 42 C.
Each session lasts 90 minutes, although Zhang usually manages to last about 60 minutes before feeling uncomfortable.
During a hot yoga class earlier this year, a new instructor insisted that she continued and stopped her from leaving. Zhang stayed.
Soon afterwards she started having difficulty breathing. She sat down on the floor, but her limbs became numb, she became breathless and she could not speak, or move.
"It was as if my body had frozen. I could hear the sounds around me, and I was conscious, but I couldn't move. Not even a finger," she recalls.
No one noticed her situation, and when they finally did, they rushed her out of the scorching hot room, called an ambulance, cooled her down with ice and fed her sugar water.
Half an hour later, she was able to get up and walk slowly, but she had struggled so hard to breathe that her chest ached the next day.
"I was scared. I felt so close to death for the first time in my life," Zhang says.
Zhang's symptoms were probably caused by dehydration and hypoxia, according to a Beijing yoga instructor Cheng Gong.
"Hot yoga is very demanding to a practitioner," Cheng explains. It is like doing strenuous activity in a hot and humid environment, and has certain health risks associated with the extreme heat, such as heat stroke, especially when the practitioner is not in a good health condition.
Related:
Breathe deep, this is the real thing 
Indian yoga master Swami Mangalteertham was in Beijing recently for the 2013 China-India Yoga Week, where he said he wants to eliminate "junk yoga" in China. More...