Eco-toilet concept struggles for acceptance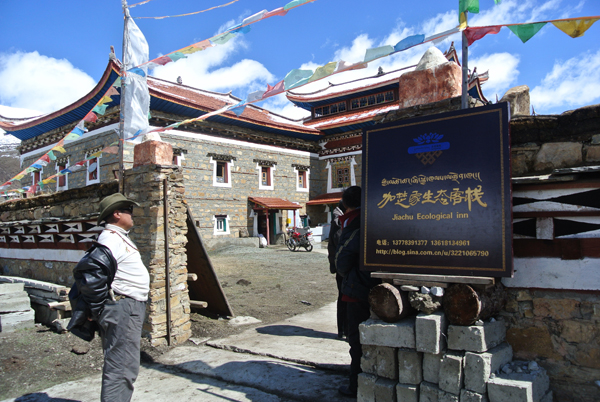 An eco-friendly inn in Kangding county, Sichuan province, offers visitors composting toilets. Provided to China Daily
There are still 477 million people without access to proper sanitation in China, including 14 million who still practice open defecation, says a 2012 joint report by UNICEF and the World Health Organization.
The situation is especially prevalent where there is a lack of water. While NGOs try to promote composting toilets as a solution, they have found their efforts could hit a wall unless the notion of eco-friendly toilets is truly embraced and recognized by users.
"The key is whether there is a demand among the households," says He Lei, leader of Wild Grass, an environmental non-government organization based in Sichuan province.
Wild Grass started to promote composting toilets, that separates urine and excrement, after the 2008 Wenchuan earthquake, which left nearly 90,000 dead or missing and inflicted extensive infrastructure damage.
"We realized there could be a reintegration of communities after the earthquake, and we could expect more participation from community members in the rebuilding process," he says.
He estimates at least 1,000 dry toilets were built in more than 10 cities in 2009 and early 2010 as part of post-disaster reconstruction programs.
However, feedback has been disappointing.
"Most toilets were barely used and some were locked up to save the trouble," he says. "For dry toilets, maintenance is far more important than simply building it. The change of mindset is also far more important than installation."
Farmers no longer rely on urine and excrement from the dry toilets as fertilizer because chemical fertilizers are a more convenient option. This has also contributed to the failure of the dry toilet programs, He says.
Zhao Zhong, chief coordinator of the non-government organization Green Camel Bell in Gansu province, agrees.
The organization built two dry toilets in Zhongmiao township in Wen county, Gansu province, when houses in the township were destroyed in the 2008 Wenchuan earthquake.
Related:
In the rural areas of China, basic hygiene facilities are changing. Where a hole in the ground used to be the norm, there is now an eco revolution going on, thanks to the spreading influence of urban visitors. But it is an uphill battle.More...