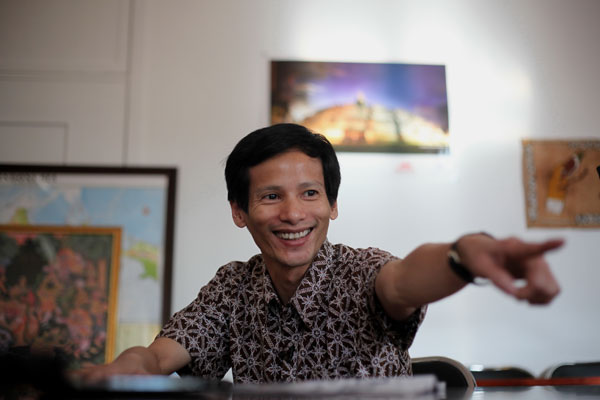 Indonesian teacher Eddy Prabowo enjoys being treated like a local at Beijing Foreign Studies University.[Photo by Wan Jing/China Daily]
My China Dream | Eddy Prabowo
The Indonesian took a leap of faith to come to China, but has stayed for seven years and counting. He tells Sun Ye that he hopes to be a bridge between China and Indonesia.
In 1984, Eddy Prabowo sent a letter from Gombong, Central Java, to Radio Beijing. In reply, the radio station pointed him to China's must-see scenic sights.
The then teenage Prabowo looked at a map and realizing that "China is big and so far away", folded the map away.
Related: Better understanding makes it a less dangerous world
More than two decades later, in 2005, he received a call from Beijing that brought him to the Chinese capital and he has since made it his home. The call was from his former student, Wang Feiyu, who was a teacher at Beijing Foreign Studies University and asked if he would like to teach there. He agreed to it almost immediately without consulting his family.
But Prabowo describes it as taking a leap of faith. Trained in Chinese studies, he was to teach the Indonesian language, its history, literature and everything else about the Southeast Asian country at the college.
"It's totally different from what I had been doing. And even though I'm an Indonesian, I didn't know that much about my country," the lean 41-year-old says. After arriving in China, Prabowo became the country's first Indonesian foreign expert.
Before he moved to China, he had taken Chinese-Indonesian studies as his primary subject in University of Jakarta, and pored over Chinese philosophy, geography and culture to become one of Indonesia's experts on China.
He doesn't speak much Mandarin but is fluent enough in the country's culture that he once trained restaurant employees on the seating protocol for Chinese banquets.