Positive attitude to adoption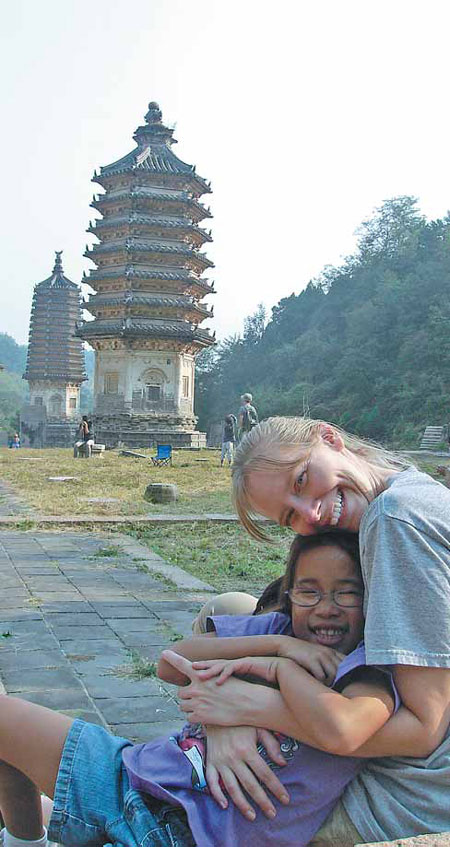 Lynn Kogelmann and her adopted daughter Ruth visit the Silver Mountain Pagodas in Beijing's Changping district. Sometimes, adapting to a new life is hard work for both the child and the adopted parents. Photos Provided to China Daily
An opportunity to live in their birth country enables adoptees to more fully understand their native culture. Tiffany Tan reports.
Kim DiBernardo is both excited and scared about moving to China with her daughter in the summer. Besides being away from her husband and stepson for a year, the resident of Plainfield, Illinois, is also worried how her 9-year-old Mei Xi will adjust to living in a foreign land - even though it is her birthplace.
"She cries when she thinks about going to China for such a long time," DiBernardo, a 54-year-old substitute teacher, says in an e-mail.
"She doesn't want to miss her fifth grade year at school in the United States. She doesn't want to be away from home that long.
"It is difficult for me to see her distressed. However, I want her to be immersed not only in the culture, but the language It is one of those things in life I feel compelled to do."
With two- to three-week "heritage tours" for Chinese adopted children becoming widely available, how important is it for them to live in the country of their birth?
Shorter trips are better than nothing, but they're not as helpful as full immersion, says Chang Wei, a clinical psychologist at Beijing United Family Hospital, who specializes in cross-cultural adjustment issues, including adoption.
The opportunity to live in her birth country enables an adoptee to intimately understand her native culture and take pride in its richness. This, in turn, helps her shape a healthy, bicultural identity, Chang says.
"Living in the US or other parts of the world, very often there are more negative views of China or the Chinese," she says. "And a Chinese adoptee may actually have a negative perception of China, which doesn't make her feel good about herself."
But knowing China first-hand will help the person weed out fact from fiction, Chang says.
It will also help an adoptee understand the cultural and social situations that have given rise to the country's family planning policy and preference for male heirs - factors that have led to infants being put up for adoption.
Since it's not easy for foreign adoptive families to just pack up and move to China, many such US families instead send their children to Chinese-language schools.
Groups of adoptive families also gather to celebrate Chinese holidays, dressing up in traditional attire, putting up Chinese decorations and serving local food.
Such activities are the most common ways adoptive families incorporate their child's heritage into family life, says Susan Branco Alvarado, an adoption therapist in Virginia.
But they are not "necessarily fully embracing the child's racial or ethnic community in their daily living", she adds.
What's crucial, says Alvarado, herself an American adoptee from Colombia, is engaging in activities that promote biculturalism through "cultural socialization".
This includes engagement with members of the child's ethnic or racial group, membership of cultural organizations and relocation to a community that shares racial and ethnic similarity to the adopted child.
Overall, experts say, it's important to foster a free flow of information about an adopted child's background.
Lack of knowledge, they say, only contributes to a child's feelings of resentment, loss and abandonment.
Contact the writer at tiffany@chinadaily.com.cn.