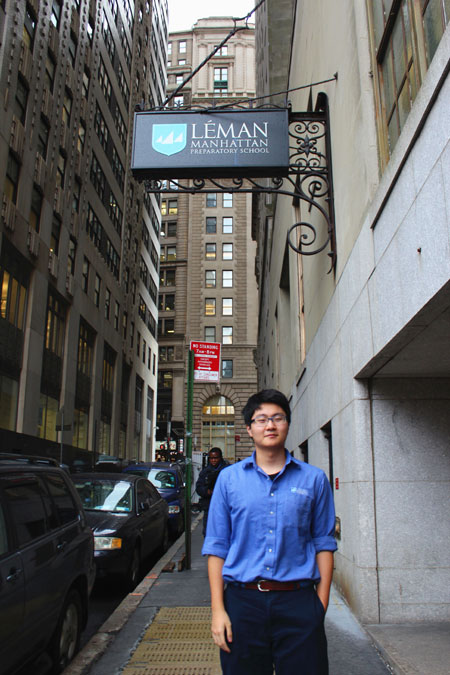 Sun Yihao, a junior at Leman's high school in downtown Manhattan, is confident his US academic experience will prepare him for admission to Princeton University. Yu Wei / China Daily
"Compared to my high school in China, the cost is high. But my parents are 100 percent supportive," says Sun, who previously attended a Shanghai private school where the annual tuition of 110,000 yuan ($17,500) was far more expensive than a Chinese public high school.
On average, the total cost (tuition plus room and board) of attending a private boarding school in the New York metropolitan area is $46,875 for the 2011-2012 academic year, according to the National Association of Independent Schools. That's about $2,000 above the median cost per year for all US private boarding schools.
"It's expensive, but when you live on Wall Street, the cost of apartments and the cost of living are huge," says Drew Alexander, head of school at Leman, which opened its doors in 2005.
With teenagers, many of them from other countries, in the school's charge amid the concrete canyons of lower Manhattan, there are a number of safety measures in place.
For one, students must have their school-assigned mobile phone with them when they sign out, and they are allowed to leave their dorm only in groups of three or more.
To earn the freedom to explore their immediate environs, Leman students must pass a series of tests - take a walking tour of the neighborhood, demonstrate a working knowledge of the New York City transit system and attend a safety presentation by the police department.
This year, 30 of Leman's international boarding students are Chinese; the other 10 are from Italy, Russia, Germany, South Korea and Turkey.
For Sun, the prevalence of so many compatriots can be frustrating.
"I can't practice my English well enough when there are so many Chinese classmates around," he complains.
To address this, the school has established an English-as-a-second-language, or ESL, program that extends beyond regular classroom hours.
"In reality, students spend most of their day in an English context - taking classes in English, socializing with American students, doing homework in English," says Brylee Maxfield, communications manager at Leman.
She points out that New York's diversity provides students many opportunities to step outside their comfort zones and experience many other languages and cultures.
Besides its extended ESL services, the school also provides at least one Mandarin-speaking instructor to translate for Chinese students when they're struggling to understand something in class.
According to the Association of Boarding Schools, about 5,600 students from China enrolled in its 285 member schools in the US this academic year. Each school has an average of about 20 Chinese students, a number that has increased steadily for nearly a decade.
"Having many students from a single country or language group can be challenging," says Pete Upham, executive director of the North Carolina-based association, which also represents schools in Canada and other countries.
"Families from China or any country are sending their kids to US boarding schools in part to have a Western experience," he says.
"If there are a large number of students from their home country, it begins to take the shine off the appeal of these places."
The Chinese student body at US boarding schools appears to be nearing a plateau, Upham says.
"I do expect that next year there still will be more Chinese students, but I think the rate of growth is slowing considerably."
The reason isn't demand, which remains high. Instead, schools are nearly at capacity for absorbing all the Chinese students they can, given their desire to have a diverse student population.
Many US boarding schools are nonetheless putting more resources into recruiting from China.
Administrators at Squaw Valley Academy, on the California (western) side of Lake Tahoe, recently visited Chinese high schools to promote their institution, which caters to foreign as well as American students.
According to Squaw Valley admissions director Adrienne Forbes, the school has received many applications from China since it began enrolling Chinese students in 2006.
To better serve this growing population, the California school now offers meals each week that are Chinese-inspired and organizes Chinese cultural activities every Friday.
"The students enjoy a Chinese dinner, play games of mahjong and watch Chinese videos," Forbes says.
"We offer many opportunities for our Chinese students to have a shared cultural experience with their Chinese friends and with students from all nations on campus."
Contact the writer at yuwei12@chinadailyusa.com.