Chinese are attracted to branded British universities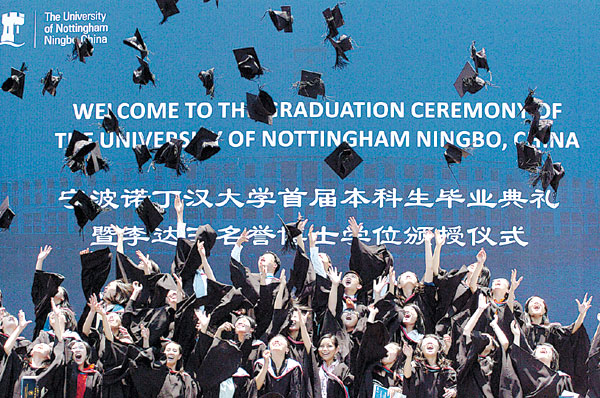 Youths celebrate graduating from University of Nottingham Ningbo, one of Britain's top universities to enter the Chinese market. Zhang Peijian / For China Daily
Bentley, Burberry and Cambridge University.
What we perceive to be the best of British products for cars and clothes are the shiny labels - those that scream: "I am the best".
Related: Building a new renaissance
Yet, carrying a Cambridge University certificate into a Fortune 500 company interview in Beijing, screams that out loud, too, for Chinese nationals, doesn't it?
Chinese account for 22.6 percent of the total non-EU international population in Britain, according to statistics provided by the Higher Education Statistics Agency in Britain for the year 2010-11. Therefore, this is an imperative market to uphold for the Brits, who rely heavily on international funding to bolster their universities.
"They (Chinese) like brand names. The more unobtainable it is, the better," says Jazreel Goh, marketing director of the British Council, the culture and education section of the British embassy. "They want to be seen."
Emma Leech, marketing director of Nottingham University, winner of the 2011 International Brand Master award, says: "I think we are one of the strongest brands in China because predominantly we've been established for a while and we are fairly well networked in China."
When questioned about whether such issues as the post-study work visa cancelation in April this year and higher tuition fees have led to a decrease in application numbers, Leech says: "No, just the opposite. Our numbers have actually gone up."
Indeed, Nottingham is one of several exemplary universities as it was the first foreign university to enter China and create a satellite campus in Ningbo, Zhejiang province, in 2004.
It was initially the cooperative board of governors at the University of Nottingham that provided the British member of the Russell Group, which represents 24 leading British universities, with the opportunity to enter China, Pro-Vice-Chancellor of Nottingham Chris Rudd says.
Vice-Chancellor David Greenaway explains that Nottingham University primarily got in via the credentials of their chancellor Yang Fujia, the previous chancellor of Fudan University, which has been rated among the top three universities in China.