Bare necessities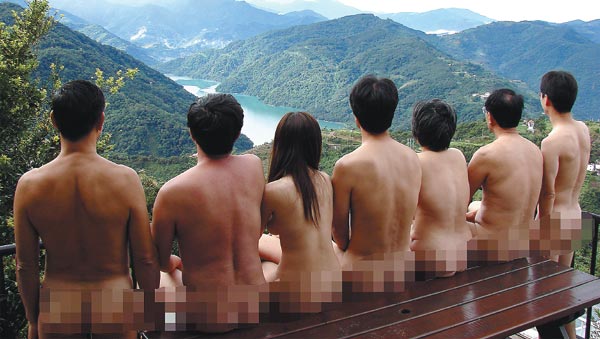 A group of naturists admire the view from a hilltop on the outskirts of Beijing. Photos provided to China Daily
China's naturists often fantasize about baring it all in the sun and the wind, but secluded and safe places are hard to find and public acceptance is equally lacking. Raymond Zhou takes a closer look at the bare facts.
Autumn offers the best weather for Beijing. In 2009, a group of six people took advantage of the golden autumn days and drove 120 kilometers to a far suburb of the capital city in search of a place where they cannot be seen.
They were naturists, who go with the intention of strolling about in their birthday suits in the embrace of Mother Nature.
One of them had discovered a mountain in Huairou, to the northeast of central Beijing. There were no tourists, and they picked a trail with no traces of other humans. After climbing up for half an hour, they came to a giant flat rock. It seemed ideal for sunbathing au naturel.
Before they could totally relax, however, they were visited by a large swarm of wasps. The insects seemed especially attracted to the two female members of the group. While fending off the winged invaders, the naturists found to their dismay that they themselves had trespassed. There were two hornets' nests beneath the rock.
As they left the place and trekked deeper into the mountain, they stumbled onto more wildlife — a swarm of butterflies and a lone snake. Finally, they settled on a spot under a chestnut tree. Using twigs as a temporary fence so that insects would climb up rather than sneak in, the group put towels on the trodden grass and started taking off their clothes.
The best thing about this spot was, they could see people coming up, but not vice versa. The worst thing: It was too cramped for comfort.
This episode is typical of the dilemma faced by China's growing numbers of naturists.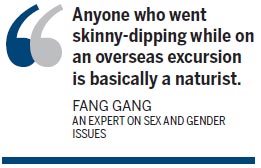 In a country with more than 1.3 billion people, it is not easy to find a public space that is naturally secluded. Wherever you go, you are likely to run into someone who is not ready to accept social nudity, or worse, who is prone to interpret such acts as hooliganism, a vague term in China that may encompass anything from sexual harassment to graffiti.
According to Fang Gang, an expert on sex and gender issues, it is impossible to estimate the number of naturists in China, but he speculates the potential is massive.