Well-fed should be well-bred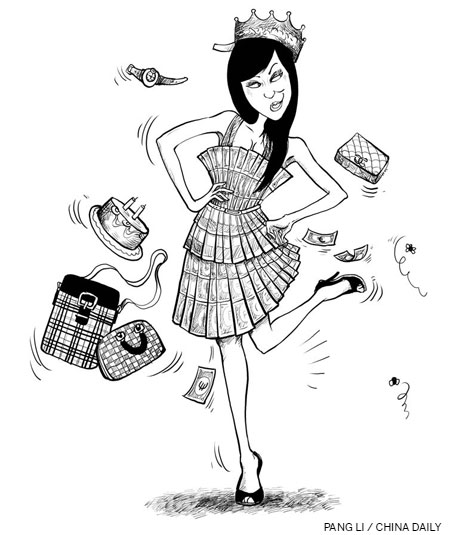 'How lovely my godfather is. He managed to get me a dress made out of money that is worth 200,000 yuan ($32,000) for my birthday. All my Louis Vuitton and Channel bags are dwarfed by the dress. Sisters, don't be envious!"
This recent micro blog written by a girl nicknamed "xiaobai'erguai" invited widespread criticism online. For most netizens, the micro blog conveyed one simple message: "You can only dream about living the life I have."
It hasn't been confirmed yet whether it really was a rich girl showing-off or just a publicity ploy to publicize a dress, which came into the market recently. If it was a marketing gimmick then the company responsible lacks a sense of social responsibility. If it was the bragging of a rich girl then it is no wonder that people hate the rich, as it shows not only her bad taste but also her heartlessness toward those less fortunate than herself.
Micro blogs such as this, whether flaunting wealth or targeting it, are symptomatic of the widening wealth gap that has accompanied China's development as some have gorged on the fruits of development before others have even had a taste.
There have been reports of people sending out fleets of limousines to welcome pet dogs, and yet there are still 128 million people in the country living on about 6 yuan (less than $1) a day.
The micro blog about a dress made of money was circulated almost at the same time as news reports of the poor condition of left-behind children. The stark contrast between rich and poor echoes the words of Tang Dynasty (AD 618-907) poet Du Fu : "Inside the grand mansions wine and meat rot, outside the poor die in the cold."
It seems that for rich people it is not a case of "I have money, therefore I'm rich", but "People can see I've got money, therefore I'm rich".
Such ostentatious displays of wealth allow a glimpse inside the grand mansions, but for most of those looking in it only reinforces the fact that the door is firmly bolted and they will never get to dine inside.
And of course it is only natural for people who are slaving away just to make ends meet to wonder how the people in the mansion can afford to live there.
Yang Dacai, the former head of Shaanxi province's bureau of work safety, was fired for "serious violations of discipline" after his penchant for expensive timepieces raised the question of how he could afford them on his official salary.
Thus, the law enforcement departments should keep a close eye on people flaunting their wealth as such displays might provide evidence of corruption and malpractice.
It is only natural for people to harbor animosity toward the rich when, even more than watches, or cars, or anything else, what they like to buy is property, which has inflated housing prices beyond the reach of most, despite the government's attempts to deflate the bubble.
Instead of flaunting their wealth, the rich should spend some of it on helping others. Such pursuits can even help establish a better business image.
Chen Guangbiao, a businessman from Anhui province, who is famous for his exaggerated, though controversial, charity and environmental protection campaigns, is actually showing off his wealth in this way to promote his business, nevertheless, he has raised people's awareness of environmental protection and charity causes.
The true value of wealth does not lie in how much more someone has than others, but in how much value it can create for society as a whole.
At the recent 18th Party Congress, Chinese leaders vowed to narrow the income gap. Hopefully in the future, everyone will be warm inside the mansions enjoying a good dinner.
The author is a journalist with China Daily. Contact the writer at liyang@chinadaily.com.cn